Describing Domaine Bousquet as Argentina's Leading Organic Winery is a big statement, but once you learn how much the Bousquet family has achieved in the past 25-plus years you will be impressed. After you taste the wines and realize how reasonably priced they are, I think you will agree they are leaders in Argentina, if not the world.
Domaine Bousquet's Journey
Jean Bousquet established his Uco Valley winery on wild land in 1997. Since the first vines were planted, farming has been organic and all vineyards are certified organic. Domaine Bousquet's first organic wines reached the market in 2005.
By 2011 the winery had grown larger than Jean wanted to manage, so he sold it to his daughter, Anne Bousquet, and her husband, Labid Al Ameri, who continue to manage the family-owned winery. In what Anne describes as the driest wine region in the world, Domaine Bousquet is Argentina's only winery whose entire production is certified organic.
Building on their organic certification, and in recognition of the importance of soil health and farming as a wholistic entity, Domaine Bousquet earned Biodynamic certification in their vineyards and winery two years ago. Regenerative Organic Certified (ROC) certification followed in 2022, making Domaine Bousquet only the fourth winery certified in the world and the first outside the US.
But wait, there's more. In 2023 Domaine Bousquet earned B Corp certification, formalizing the social aspects of sustainability that are part of their vision. B Corp certification builds on Bousquet's prior commitment to fair working conditions, human rights and commitment to sustainable agricultural practices as evidenced by their Fair for Life certification. Domaine Bousquet's wines are also certified vegan.
Today, Domaine Bousquet owns about 642 acres of certified organic vineyards and sources grapes from organic vineyards in the Uco Valley, many of which they helped certify. Domaine Bousquet exports about 7 million liters of organic wine a year, representing 65% of Argentina's organic wine export. And they have recently made a certified kosher wine, also certified kosher for Passover, that is certified USDA Organic.
Certification is extremely important to Domaine Bousquet, because, as Anne noted, it is the only way to prove to consumers that what they say is happening in the vineyard and the winery is actually happening.
What's next? Measuring and reducing their carbon footprint, reducing water usage and more composting, less tilling in the vineyard.
Guiding the work in the vineyard and winery for the past five years has been head winemaker, Rodrigo Serrano. He shares the same passions in the vineyard and winery as the Bousquet family.
Mendoza's Uco Valley sits at the foot of the Andes Mountains and is divided into three departments: San Carlos, Tunuyán and Tupungato. Domaine Bousquet's vineyards are situated within the Gualtallary region of Tupungato at about 4000 feet above sea level. Warm summers, cool nights and high elevation make Gualtallary a prime location in the Uco Valley. Rodrigo believes Gualtallary is perfectly situated to make the the best premium wines in Argentina.
Let's Taste
So, how do all of these certifications, care in the vineyard and in the winery translate to what we taste in the bottle? To answer that question, we are tasting a selection of wines from Domaine Bousquet's wide range of wines. Because of management practices in the vineyard harvest takes place over a relatively long period — January to April. This allows Rodrigo and his team to craft wines in many styles. We received these wines as tasting samples.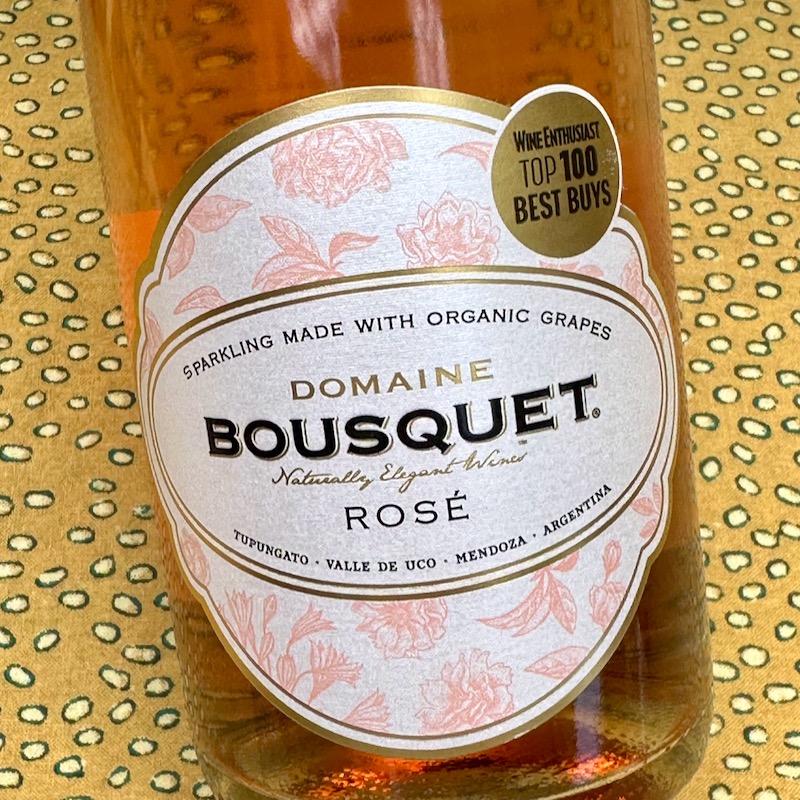 Domaine Bousquet Sparkling Brut Rosé, NV, Tupungato, Uco Valley, Mendoza, Argentina — soft salmon-pink with generous bubbles and aromas of berries and citrus zest. Bubbles are mouth filling and creamy with flavors of ripe pomegranates and citrus zest. The finish is clean and not perceivably sweet. 12% abv. SRP $13
Made using the charmat method, this rosé is a blend of 75% Pinot Noir, 25% Chardonnay. Delicious bubbly plenty of flavor and texture.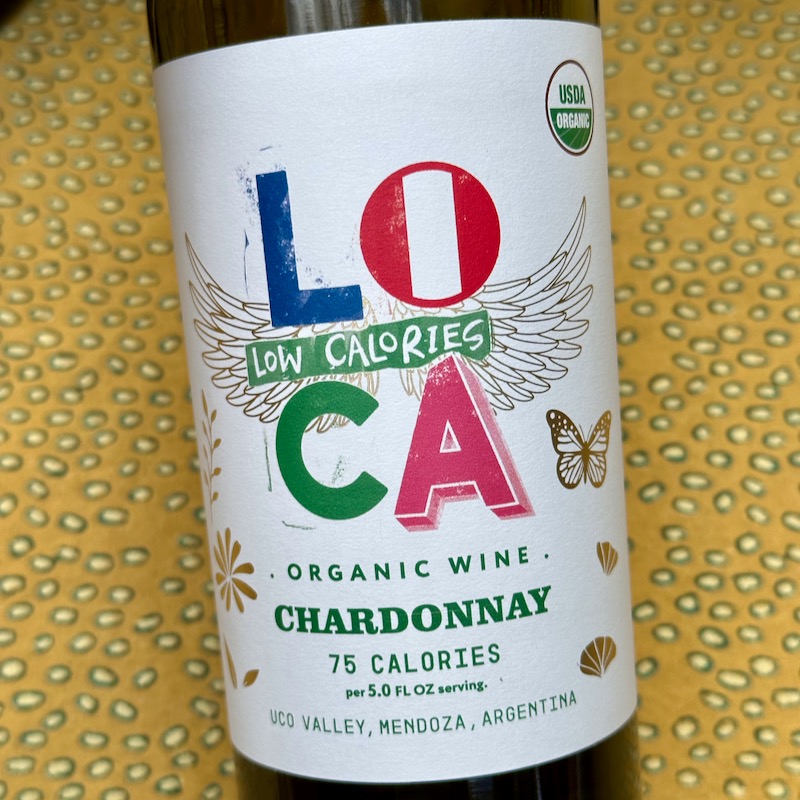 Domaine Bousquet LO CA Chardonnay, Uco Valley, Mendoza, Argentina — pale yellow with aromas of crushed gravel and limestone. Flavors include citrus and barely ripe pears with a citrusy, clean, juicy finish. 9% abv. SRP $14. Only 75 calories per 5 oz glass.
This is a low calorie wine made with intention. I took several vintages for Rodrigo to craft a certified USDA Organic (no added sulfites) wine that met his standard for flavor in a low calorie wine. Rodrigo discovered that two harvests (one early, one later) from a Chardonnay vineyard with less acidity and higher pH, followed by a blending to those two wines was the key. The wine has less than 2g/l of sugar.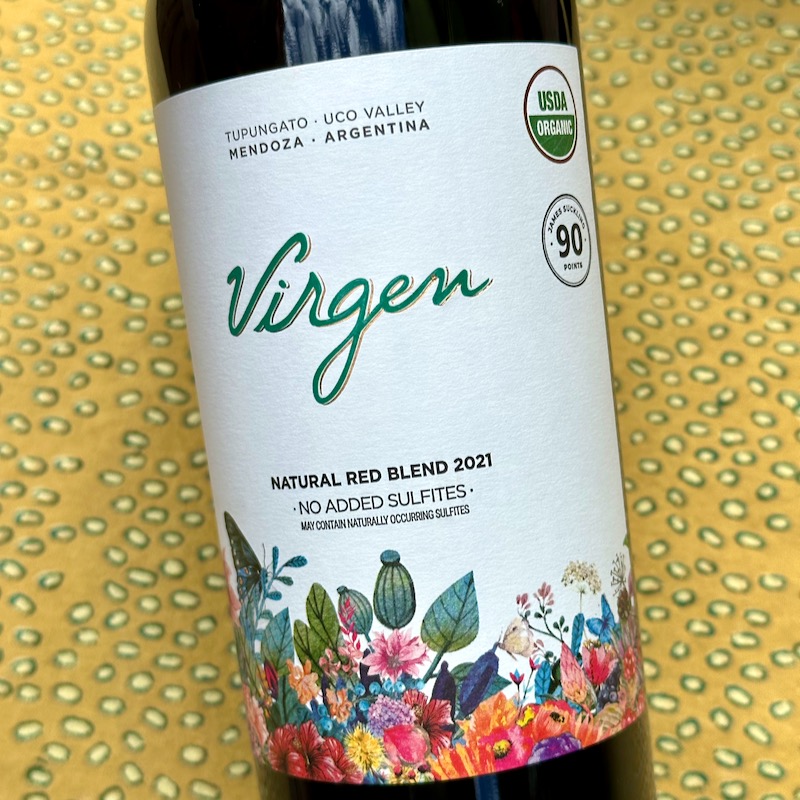 2021 Domaine Bousquet Virgen Red Blend, Tupungato, Uco Valley, Mendoza, Argentina — medium ruby with aromas of plums, blackberries and crushed flower stems. Flavors include blackberries and other dark and red fruit with a bit of earth. Tannins are gauzy in a medium body. 14% abv. SRP $13
The blend is 35% Malbec, 35% Cabernet Sauvignon, 30% Cabernet Franc. A delicious blend that is fruit forward and balanced with nice tannins
The Virgen line is the first certified USDA Organic wines made by Domaine Bousquet. Once again, it's a big deal to make a stable wine, without flaws using NO added sulfites during winemaking.
We will taste additional wines from the Virgen line and have more background on the line in our next post.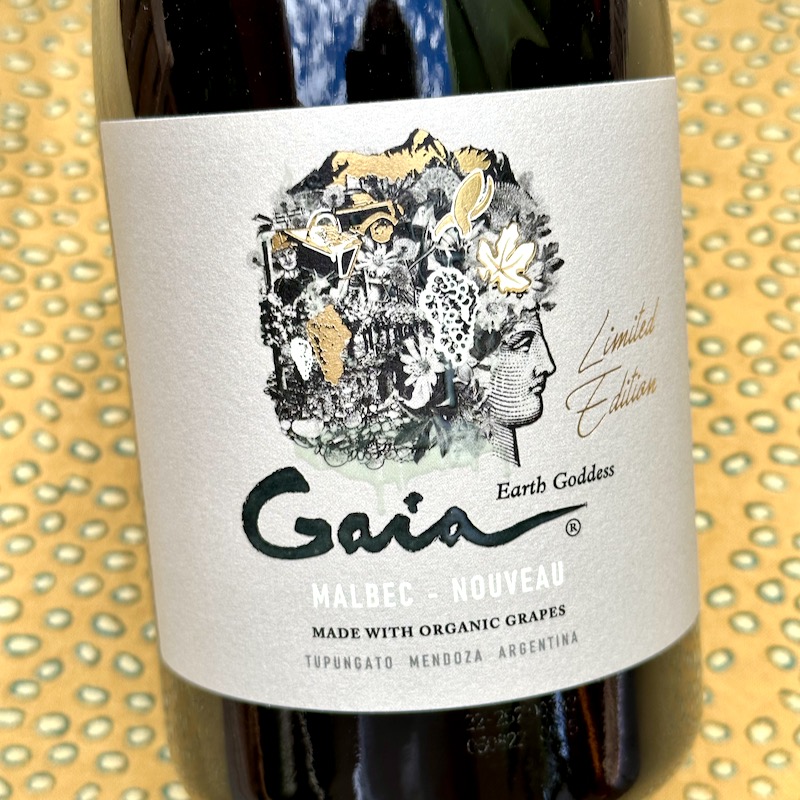 2022 Domaine Bousquet Gaia Malbec Nouveau, Tupungato, Mendoza, Argentina — bright ruby with generous aromas of fruit leather and boysenberry pie. Generous flavors include ripe blueberries and boysenberries and earthy blackberries. Tannins are fine and drying in a just-medium body and linger on the finish. 14.5% abv. SRP $20
This limited edition Malbec Nouveau is made in small batches, using whole-cluster carbonic maceration, followed by pressing and a cool fermentation as in white wines to preserve aromas. After making only 2000 bottles as an experiment for two years, 20,000 bottles were made in 2022 because of demand. Enjoy this wine slightly chilled on a warm evening. Domaine Bousquet earns extra points for creativity on this delicious wine.
We will taste additional wines from the Gaia line and have more background information in our next post.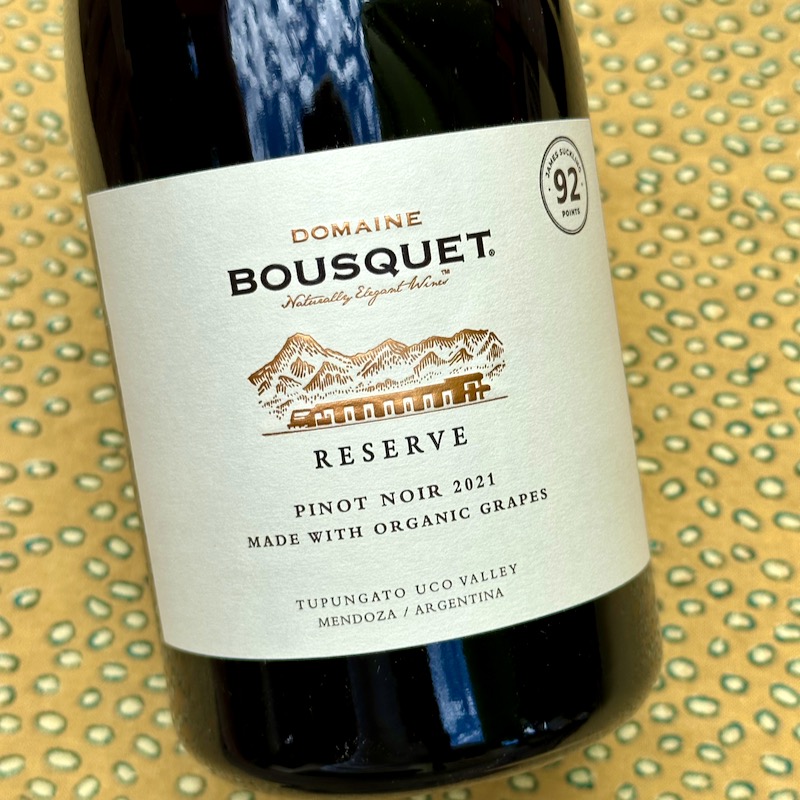 2021 Domaine Bousquet Reserve Pinot Noir Tupungato, Uco Valley, Mendoza, Argentina — translucent ruby-garnet with aromas of dark cherries, berry brambles and mushrooms. Flavors include tart red cherries, berry bramble and earth supported by drying tannins (more than most Pinot) and juicy acidity. 13.5% abv. SRP $18
Sandy soils, wind, cool summer nights and attention to management in the vineyard are essential to growing quality Pinot Noir in the Uco Valley. Also important is a light hand with oak aging in the winery according to Rodrigo. Only half the wine is aged in used 400-liter French oak barrels.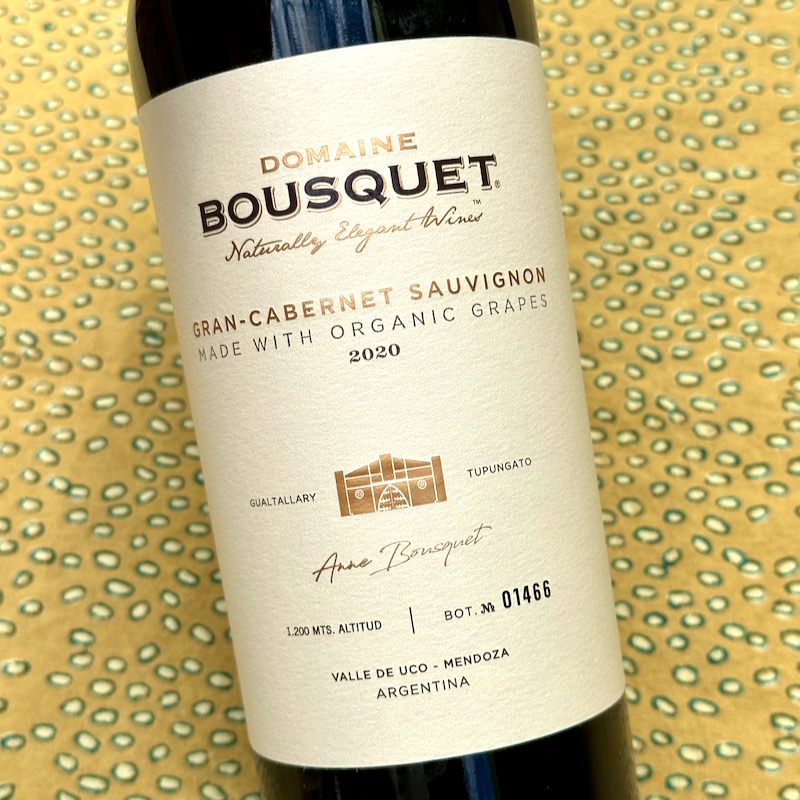 2020 Domaine Bousquet Gran Cabernet Sauvignon, Valle de Uco, Mendoza, Argentina — dark ruby with generous aromas of ripe blackberries, plums, cedar and tobacco. Generous fruit flavors include blackberries, raspberries, pomegranates along with dusty earth. Tannins are grippy and gauzy in a medium body. You will be rewarded if you give this wine some time in the bottle. 15% abv. SRP $20
85% Cabernet Sauvignon, 15% Malbec harvested from the "home vineyard." This Cabernet is fruit forward, thanks in part to the Malbec, but with plenty of structure to allow for elegant aging potential. Aging took place in new and used French oak for nearly one year. Malbec is the most important variety in Argentina, but Rodrigo feels Cabernet Sauvignon also has great potential in Gualtallary.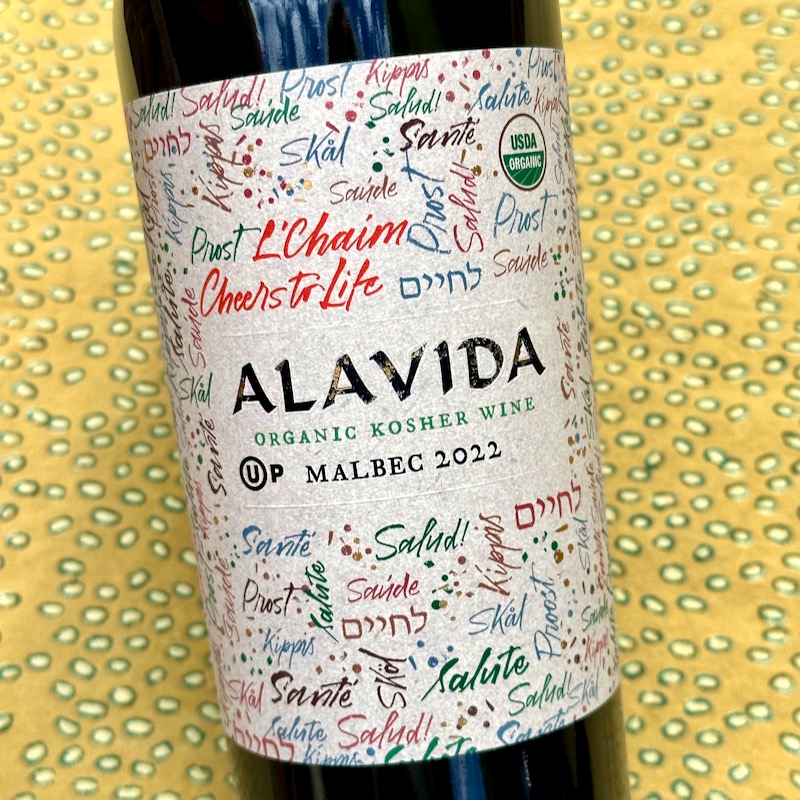 2022 Domaine Bousquet Alavida Malbec, Tupungato, Mendoza, Argentina — dense ruby with aromas of ripe blueberry and blackberry compote. Flavors include ripe mixed blueberries, blackberries and boysenberries with a bit of earth and leather. Acidity is notable and the tannins are gauzy in a medium body. 14.5% abv. SRP $19
Alavida is the wine that is not only certified USDA Organic (no added sulfites) but it is also certified kosher. Rodrigo directed the winemaking, but a Jewish sabbath-observant team supervised by a rabbi handled the grapes and made the wine using kosher yeasts. 
***
We have had the opportunity to taste many Domaine Bousquet wines over the years and we are always impressed by the quality of the wines and the very reasonable price. Many wineries use organic or biodynamic principles in the vineyard but don't certify their vineyards or winery due to the time and cost involved. Domaine Bousquet's commitment to organic and biodynamic farming and ever-growing list of certifications is commendable.
Thanks to Creative Palate Communications for facilitating our tasting and to Anne and Rodrigo for sharing their vision and accomplishments in Gualtallary.
Cheers!