When the Symington family decided to expand beyond the Douro, where they have spent five generations establishing themselves as makers of quality Port and dry red wines, they chose Portalegre. In 2017 they purchased an estate they have named Quinta da Fonte Souto. The 511-acre property has just over 100 acres of vineyards at elevations between 1600 and 1800 feet above sea level. Large oak forests remain on the estate and there is a chestnut grove (souto), after which the estate is named.
Portalegre is a small sub-region of Portugal's very large Alentejo region and it is very different from the rest of Alentejo. Most of Alentejo is consists of plains and rolling hills of wheat fields, oak forests and vineyards. It's mostly very hot and dry. Portalegre is situated at elevation in the northeastern corner of Alto Alentejo along the border with Spain. Vineyards mostly dot the foothills of the Serra de São Mamede. Conditions here are wetter and cooler than the rest of Alentejo with soils that are a mix of schist and granite, making them poor in nutrients.
Alentejo is known primarily for its delicious red blends, which comprise about 73% of production. White wines make up about 25% and rosé rounds out the field with about 2%. So, Quinta da Fonte Souto Branco is not only sourced from a very unique corner of Alentejo, it is also represents just a fraction of total production in this enormous region. We received this wine as a tasting sample.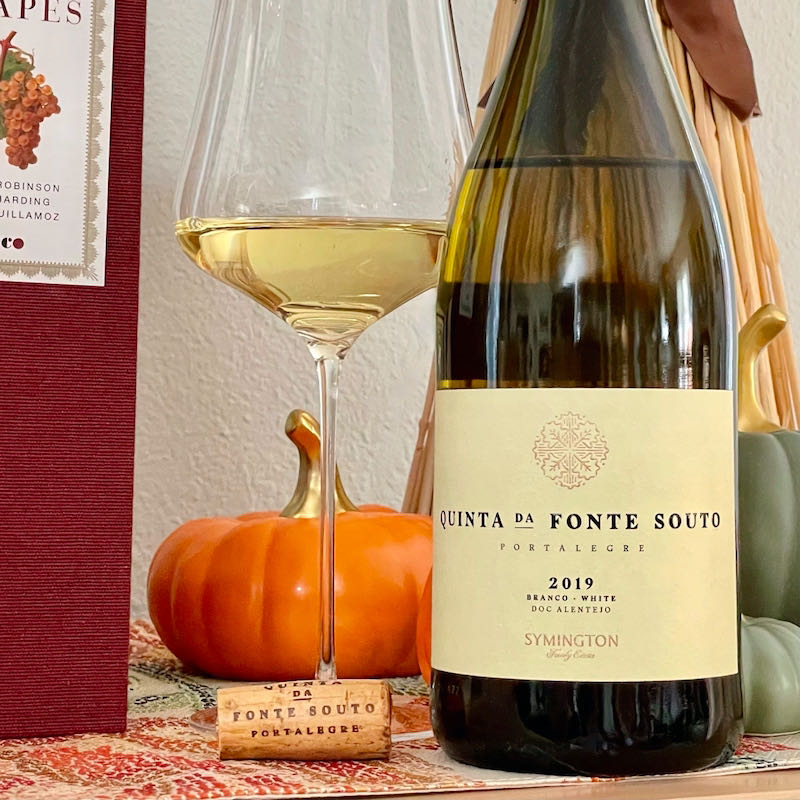 2019 Quinta da Fonte Souto Branco, Portalegre, DOC Alentejo — medium yellow with citrusy, flinty and asphalt aromas. Flavors lead with melon, citrus and pear, notes of vanilla and toast supported by fresh acidity. The body is round and the finish is long. 14.5% abv. SRP $25
Mature, low-yielding estate vineyards are the source for this 75% Arinto, 25% Verdelho blend. Fermentation started in stainless steel vats, but immediately after beginning, 60% of the must was transferred to 500-liter French oak barrels and left in contact with the lees. This larger barrel size minimizes the oak's impact on the aromatics of the wine. The final blend was aged in a combination of French and central European oak (both new and multiple-use barrels.) A small fraction, 10%, aged in stainless steel vats.
The care and attention to detail in the winemaking are evident in the glass with the wine's layered flavor profile, weight and texture. It's so sippable, yet really deserves a lovely meal to accompany it. Sautéed halibut or scallops would be so delicious with this wine. And, if you're thinking ahead to Thanksgiving this wine would be perfect for your celebration. This is the third vintage made by the Symington family at Quinta da Fonte Souto and the second vintage we have tasted. Production at Quinta da Fonte Souto includes red wine and a rosé that was intended as a trial, but proved too delicious not to release.
Something else to keep in mind with all the wines made by Symington Family Estates is that the company is a Certified B Corporation. That's a very big deal as certification as a B Corp recognizes the company's commitment to employees, community, suppliers, customers and the environment. And, the company's performance is audited adding accountability to the equation. These are the kind of companies I am pleased to support with my purchases.
Thanks to Calhoun & Company Communications for organizing our tasting.
Cheers!