Summer is here, temperatures are rising and we're enjoying lighter meals. We're grilling and trying to keep cool. White wines are more likely to grace our dinner table this time of year and Grenache Blanc is a delicious choice to accompany meals or sip before dinner. Grenache Blanc from Napa Valley isn't the most common of choices, but Priest Ranch Grenache Blanc is one you will enjoy. We received this wine as a tasting sample.
According to the Rhone Rangers, a non-profit organization dedicated to promoting American Rhone varietal wines, Grenache Blanc was introduced in California by Tablas Creek Vineyard in 1992. Acreage in California is mostly planted in San Luis Obispo and Santa Barbara counties in California's Central Coast. California's North Coast and Sierra Foothills are also home to plantings of Grenache Blanc. The California Grape Acreage Report 2020 Crop puts the total acreage of Grenache Blanc planted in California at 620 acres, not a huge planting, with only 7 acres planted in Napa (District 4.)
Priest Ranch takes its name from Joshua James Priest, who came to California in 1849 during the gold rush. In 1869 he purchased 660 acres east of St. Helena in the Vaca Mountains. The property was part of the 8546-acre Rancho Catacula, a land grant given to Joseph Chiles 1844 by Governor Manuel Micheltorena. Before that, for 10,000 years, many Native American groups lived in and around the Napa Valley.
In 2004 the 660-acre Priest Ranch was purchased and, a few years later, combined with an adjoining 995-acre property called Elder Valley. The two properties now make up the Somerston Estate. Only 230 acres of the 1,682-acre estate are planted to vines on 15 distinct sites resulting in over 180 different varietal blocks. Two ranges of wine are made from the estate: Priest Ranch and Somerston Estate, which are single-block wines.
Unfortunately, this beautiful and wild and estate has been in the path of destructive wildfires in recent years. In 2017 and again in 2020 no wines were made due to the fires. Quality is foremost in the crafting of both Somerston Estate and Priest Ranch wines.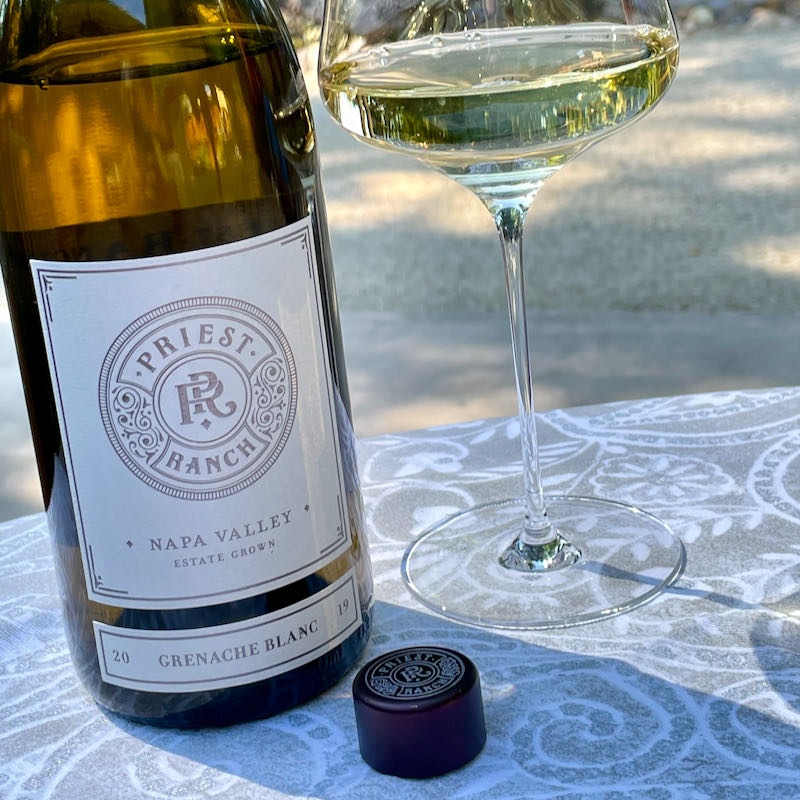 2019 Priest Ranch Grenache Blanc, Napa Valley — pale yellow with generous aromas of yellow peach and honeysuckle. Layered flavors include ripe pears, honeysuckle, oat hay, citrus zest and notable acidity. The flavor profile is rich and the wine has some weight on the palate with a long finish. 14.1% abv. SRP $22
A delicious flavor profile combined with richness and body make this Grenache Blanc lovely to sip on its own, but it's also perfect for a meal.
Grenache Blanc was harvested from blocks 6 and 7, a 4.9 acre parcel planted at 1250 feet above sea level. The wine was fermented with native yeast in stainless steel drums and tanks. It spent five months on the lees with stirring before bottling. The wine is available in 750ml bottles and in 375ml cans (6-packs.)
Thanks to Priest Ranch and Jarvis Communications for the delicious introduction Priest Ranch wines. We hope 2021 is a successful vintage!
Cheers!