Bob and Renée Stein are especially pleased to be releasing their 2019 Notre Vue GSM Rosé and Chardonnay Musque. 2019 was an extremely challenging year that was marked by two fires that struck the Sonoma County property. The first, in May, damaged the tasting room and warehouse. Then the Kincade fire, which started October 23, destroyed an outbuilding, furniture and brush on the property. Fortunately, the winery was not damaged. These wines represent a new start for the winery. We received both wines as tasting samples.
An Estate with a History
A glass of wine is rarely just a glass of wine. Notre Vue is situated on a piece of Sonoma County that was part of the Rancho Sotoyome land grant of 1841. Antonio Perelli-Minetti later acquired the property and planted grapes on the site. (If you take time to read the two links above you will discover a rich history filled with intrigue and a connection to a winery in Napa Valley.) Then the property became a summer home for a time in the 1920s. In 1972 the Balverne Estate changed ownership, vineyards were replanted and winemaking began under the Balverne label. Balverne wines became well-known and were even served in the White House.
In 1992 the property was purchased by Bob Stein and his wife Renée Brown Stein and renamed Windsor Oaks Vineyards. Until 2005, when winemaking under the Windsor Oaks Winery name was established, the grapes were sold to other wineries. Over time the Steins reintroduced the Balverne label and established the Notre Vue Vineyards & Winery label. The vineyards remain a source of grapes for other wineries.
The estate encompasses 710 acres in the Russian River Valley and Chalk Hill AVAs. Only 250 acres are planted to vineyards and 350 acres are protected under the Sonoma County Agricultural Preservation and Open Space District preserving them in their natural state.
Ancient riverbed in the Russian River Valley appellation is home to Burgundian varieties and Chalk Hill's volcanic soils are perfectly suited to Bordeaux varieties. 16 grape varieties are planted and both the vineyard and winery are certified sustainable by the California Sustainable Winegrowing Alliance.
Annual production is about 5000 cases. Current-release Balverne wines include Chalk Hill Sauvignon Blanc and Russian River Valley Chardonnay, Rosé of Pinot Noir and Pinot Noir and Sonoma County Cabernet Sauvignon. Current Notre Vue bottlings include Chalk Hill GSM Rosé, Russian River Valley Chardonnay and Chardonnay Musque, Sonoma County Proprietor's Red Blend and North Coast NV Brut.
Let's Taste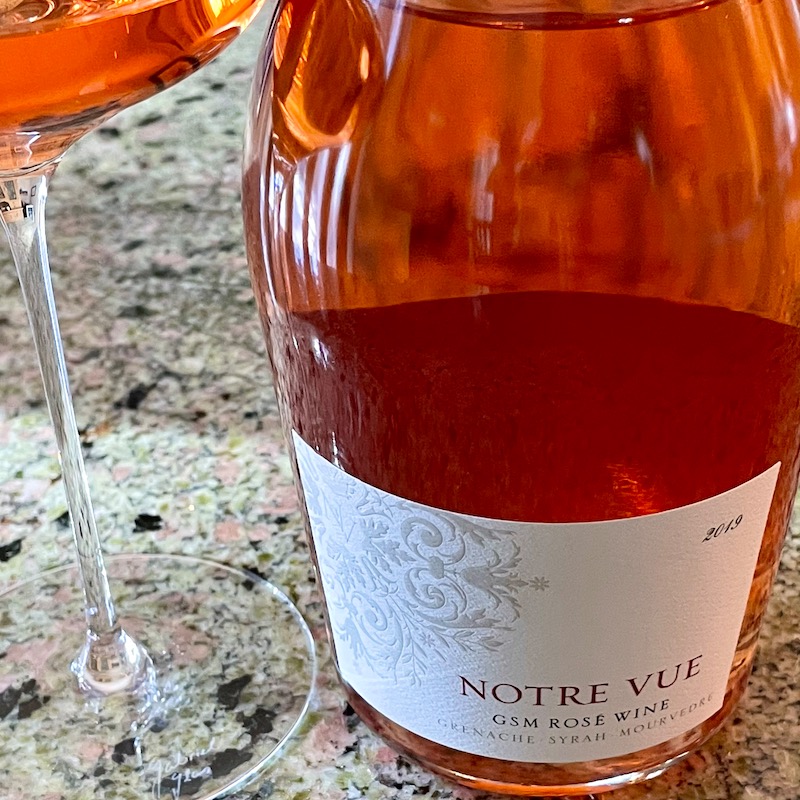 2019 Notre Vue GSM Rosé, Chalk Hill, Sonoma County — coppery-pink in the glass with generous aromas of roses and raspberries. Flavors follow with raspberries, blackberries, citrus zest and dusty earth. Bright acidity and light tannins support the fresh flavors. 12.7% abv. SRP $29. Only 180 cases made.
Equal dollops of Grenache, Syrah and Mourvedre were co-fermented at 55 degrees in stainless steel. The grapes had six hours of skin contact before being pressed and fermented. Winemaker's notes indicate: "Non-saccharomyces yeast was used for sulfite reduction therapy. This wine has minimal intervention in the winemaking process and the low sulfite and alcohol content enhance the purity of the flavors and aromas."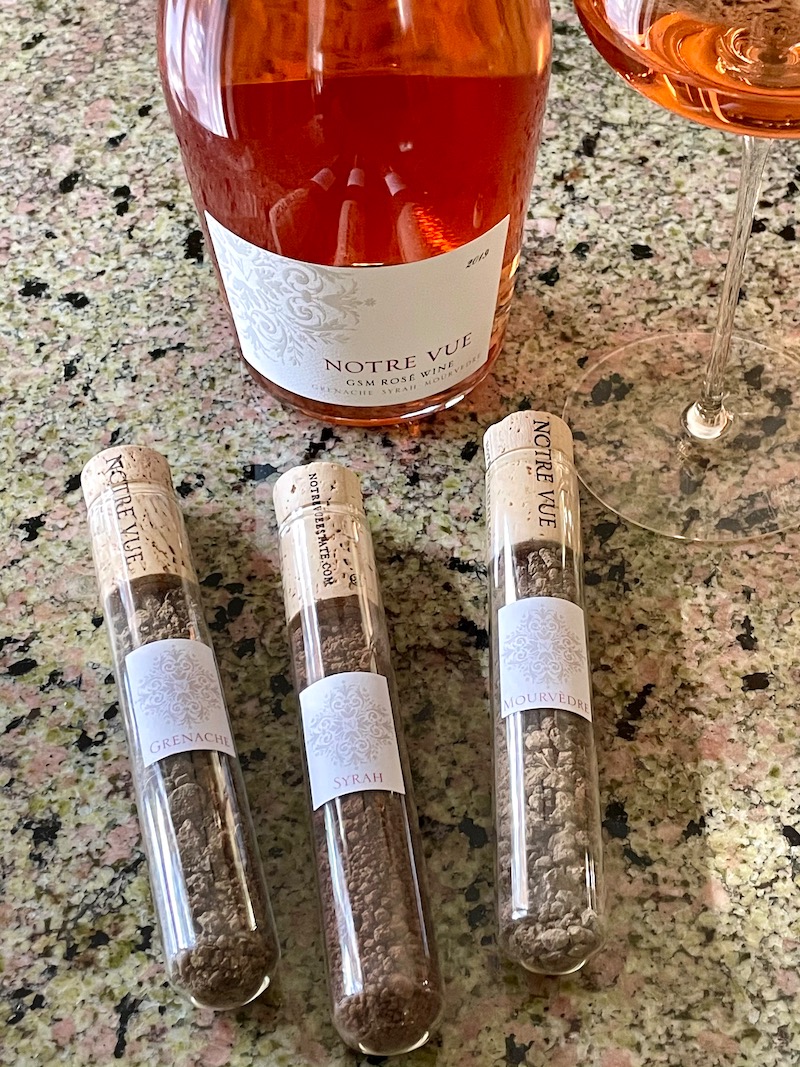 The bold color of this rosé gives a hint at the complex aromas and flavors to come. Grenache, Syrah and Mourvedre play well together in this beautiful rosé that is just as enjoyable to sip as it would be to pair with a meal.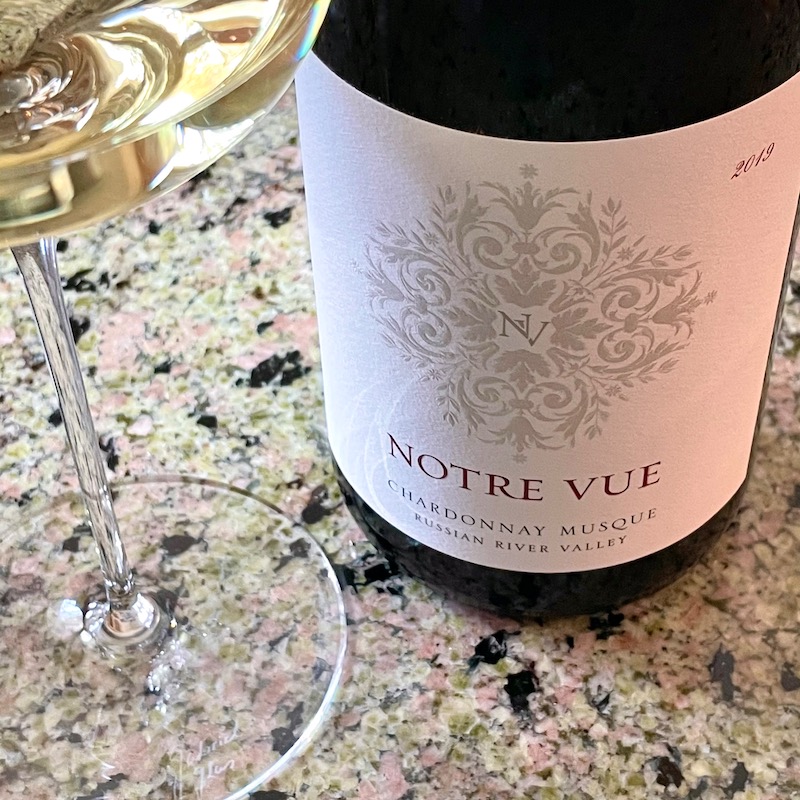 2019 Notre Vue Chardonnay Musque, Russian River Valley, Sonoma County — medium yellow in the glass with generous aromas of white flowers and grapefruit. Aromas of stone fruit, grapefruit and citrus zest with a bit of citrus pith on the finish. Medium+ finish with nice acidity. 14.3% abv. SRP $36. Only 300 cases made.
French Chardonnay clone 809, Chardonnay Musqué, is responsible for the extremely unique and complex aromas and flavors of this Chardonnay. The grapes were pressed and fermented then transferred to neutral oak barrels without going through malolactic fermentation. The wine spent three months on the lees with stirring.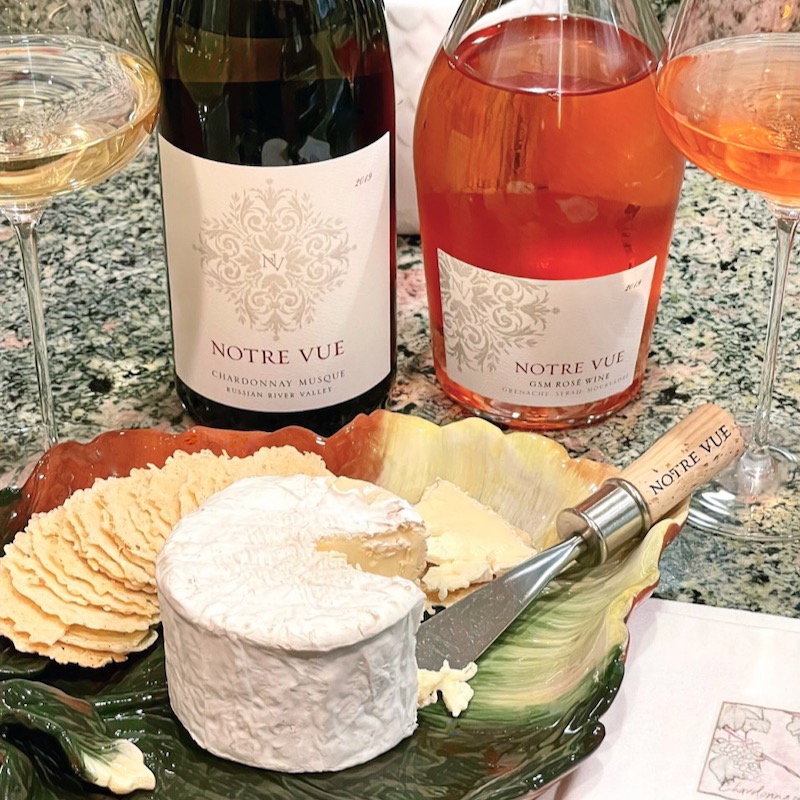 After tasting both of these wines we were inspired to enjoy them with snack late in the afternoon. Both were lovely with our favorite Cowgirl Creamery's Mt. Tam organic cow's milk cheese. We nearly spoiled our appetite for dinner.
Wine tasting in the time of COVID is a bit different than usual, but options remain for tastings at Notre Vue with preparation ahead of time. See the website for details.
Thanks to Notre Vue for sending these wines our way.
Cheers!