We're celebrating this #PinotNoirDay in true wine geek fashion with a tasting of three Pinot Noirs made by a winery with a history closely tied to Russian River Valley Pinot Noir. In fact, I've read in several places that Gary Farrell, the man and the winery, helped establish the Russian River Valley's reputation for fine Pinot Noir. We received these wines as tasting samples.
All three wines are from the 2016 vintage and sourced from two distinct vineyard sites in the Russian River Valley. Two of the wines are sourced from a combination of Dijon and Pommard clones and one is entirely Dijon clones. And these wines came with the most detailed technical sheets describing the winemaking that I have seen.
According to a detailed profile of Gary Farrell Vineyards & Winery on The Prince of Pinot website, an excellent resource for Pinot Noir lovers, Gary Farrell's personal journey with winemaking begins in the mid-1970s. According to the post, Gary made the first Pinot Noir for Rochioli Vineyard & Winery and for his own Gary Farrell Winery in 1982. I refer you to the Prince of Pinot's post for the complete history of Gary Farrell Winery and background on current winemaker since 2011, Theresa Heredia, who by his account continues to build the winery's reputation for Pinot Noir.
The 2016 Vintage
The winery's technical notes describe 2016 as an exceptional year in the Russian River Valley. Winter rains lightened the drought pressure and encouraged early vine development. The season provided for a long, slow ripening of Pinot Noir resulting in complex flavors, excellent balance and structure. Cooler than average daytime temperatures and cool nights near harvest allowed for a controlled pick to maximize concentration and natural acidity.
Hallberg Vineyard
The 100-acre Hallberg Vineyard is situated in the Green Valley sub-AVA of the Russian River Valley. This sole sub-AVA of the Russian River Valley is characterized by a strong marine influence. This cool, foggy site results in lower daytime temperatures that means the vines never completely shut down. Pinot Noir develops dark color, great structure, silky tannins and darker fruit flavors.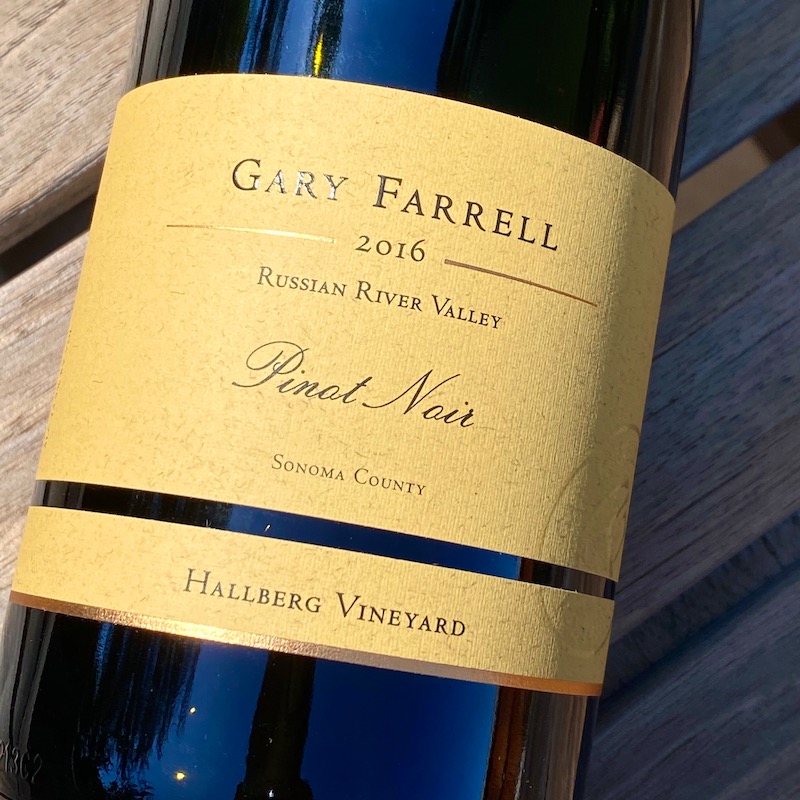 2016 Gary Farrell Hallberg Vineyard Pinot Noir, Russian River Valley — translucent ruby in the glass with aromas of red and dark berries, earth and cedar. Cranberry, ripe pomegranate and blackberry flavors follow with notes of dusty earth and cedar. Notable acidity is in balance with the flavors. Tannins are smooth and drying and the body is medium. 1542 cases made. 13.9% abv. SRP $55
100% Pinot Noir including clones 667, 777, 828, Pommard and a "mysterious suitcase collection."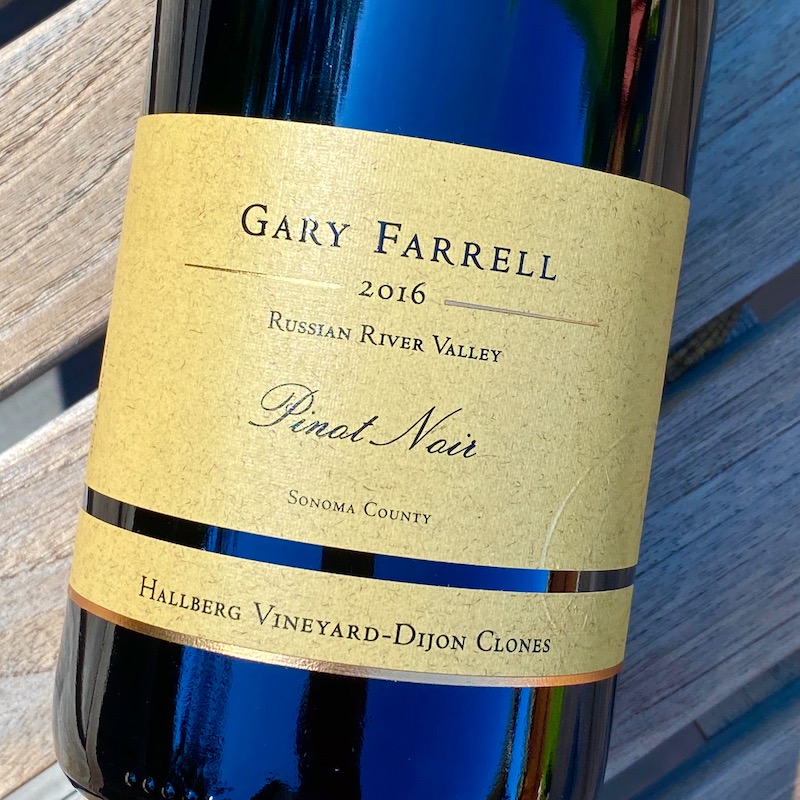 2016 Gary Farrell Hallberg Vineyard-Dijon Clones Pinot Noir, Russian River Valley — translucent ruby in the glass with aromas of red cherries and cedar with hints of roasted coffee. Red and dark cherry flavors combine with blackberries, earth and cedar. Tannins are smooth and once again, lively acidity lifts this wine that is barely medium bodied. 937 cases made. 13.7% abv. SRP $60
100% Pinot Noir Clones 777 and 667.
Toboni Vineyard
The Toboni Vineyard is located in the Santa Rosa Plain, just south of the winery. The vineyard is planted to Dijon Pinot Noir clones 115, 667, 777, and Pommard 5 clone. All are planted on rootstocks chosen to suit the blend of clay loam soils with mineral and gravel composites. The site enjoys cool, foggy mornings and sunny afternoons.
2016 Gary Farrell Toboni Vineyard Pinot Noir, Russian River Valley — translucent ruby in the glass with aromas of red cherries and damp earth. Red cherry flavors echo in the flavor profile along with earthy mushrooms, cedar and bright acidity. Smooth tannins in a medium body are harmonious. 915 cases made. 14.1% abv. SRP $55
100% Pinot Noir clones selected from the above planting.
Winemaking for all of these wines begins with early-morning harvesting, hand sorting and partial de-stemming. A portion of whole cluster fruit was then added, the grapes chilled and cold soaked for a variable period of time prior to fermentation. Gentle punchdowns and extended maceration of variable length followed during fermentation with gentle pressing, inoculation for malolactic fermentation and racking to barrel. All French oak aging, 40% new, medium-toast François Frères, Ana Selection, Remond and Tonnelliere O for between 10 and 15 months.
Three things stand out to me in these delicious expressions of Pinot Noir: pure Pinot Noir fruit flavors (with support but without interference from oak aging), notable (but balanced) acidity and a pop of cedar that I find intriguing. Lovely wines all and worth the price. It's difficult to choose a favorite, but the 2016 Gary Farrell Hallberg Vineyard-Dijon Clones Pinot Noir spoke to me the loudest (without shouting.)
Thanks to Folsom + Associates and Gary Farrell Winery for providing the opportunity to indulge in these lively, fruit-forward Pinot Noirs and for making our Pinot Noir Day celebration so memorable.
Cheers!