Kenwood Vineyards is a winery name you no doubt recognize. The Sonoma County winery has been making wine since 1970. We've enjoyed Kenwood wines over the years, but haven't tasted many recently. We recently received a selection of Kenwood Vineyards wines as tasting samples that provided an opportunity to reacquaint ourselves with the wines of Kenwood Vineyards.
Kenwood Vineyards began as a family business and established itself as a producer of premium wine in Sonoma County. In 1996 Korbel purchased 50 percent of the winery and then several years later bought out the founding families. In 2014 Pernod Ricard USA purchased Kenwood Vineyards from Korbel.
Kenwood Vineyards makes five ranges of wine sourced from all over the Sonoma AVA. Three of those, Sonoma County, Six Ridges and Jack London Vineyard are represented in this tasting. The Single Vineyard and Artist Series are the other two ranges.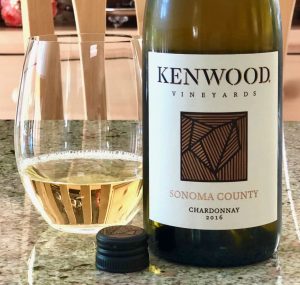 2016 Kenwood Vineyards Chardonnay, Sonoma County — light golden in the glass with aromas of pears, citrus zest and wood spice. Ripe pear and stone fruit flavors are brightened by the sensation of citrus zest. Toasty notes linger in the background along with a sensation of roundness. The finish is medium+ in length. 13.5% abv. SRP $18
Chardonnay, sourced mainly from the Russian River Valley, was hand picked and whole cluster pressed before undergoing fermentation in French and Hungarian oak. The wine also went through malolactic fermentation and was aged in oak for 6 months.
This is a Chardonnay that will please most Chardonnay drinkers, and it is hard to argue with the price. It is easy drinking and although the wood influence is evident it does not overpower the fruit flavors. This Chardonnay would pair nicely with appetizers, creamy pasta or chicken salad.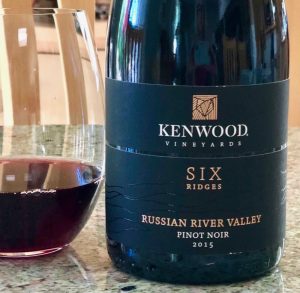 2015 Kenwood Vineyards Six Ridges Pinot Noir, Russian River Valley — light ruby in the glass with primarily toasty aromas initially that yield to aromas of blackberries, berry bramble, dusty earth and cedar. Red raspberry flavors predominate along with berry bramble earthiness and cedar spice. Tannins are smooth and well integrated with the flavors. The body is medium and the finish is short to medium in length. 14.5% abv. SRP $30
Fermentation of this 100% Pinot Noir took place in stainless steel before aging in European oak for 13 months.
This is not a weightless, etherial Pinot Noir, but neither is it heavy and uncharacteristic of the variety. It has the flavor profile I associate with Pinot Noir and is easy drinking. The winemaker's notes describe it as a rich and full-flavored Pinot Noir. That's accurate. Pair this with pork roast, roasted chicken or butternut squash risotto.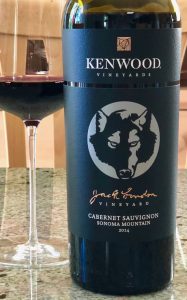 2014 Kenwood Vineyards Jack London Vineyard Cabernet Sauvignon, Sonoma Mountain — dense ruby in the glass with red berry aromas along with hints of dried mint and eucalyptus. Red and dark fruit flavors combine with damp earth, cedar and leafy tobacco. Tannins are grippy, but well integrated with the flavors, which last a good long time. 14.5% abv. SRP $35
According to Kenwood Vineyards:
Since 1976, Kenwood Vineyards has been the exclusive producer of wines from the historic single vineyards of the famous Jack London Ranch. Located on the eastern slopes of Sonoma Mountain, the Jack London Vineyard gets early morning sun followed by breezes in the afternoons that temper the day's most extreme heat. The red volcanic soil and warm climate of this hillside vineyard combine to produce full-bodied Cabernet Sauvignon, Merlot, Syrah and Zinfandel with intense varietal flavors.
The historic aspect of the vineyard is pretty cool. Beauty Ranch was owned by author Jack London and his wife, Charmian Kittredge London, and is preserved as Jack London State Historic Park.
This Cabernet's minty-eucalyptus edge makes it a bit different than most you will taste. I happen to like those flavors in a Cabernet, I find it really interesting, and I like that this is not a cookie-cutter Cabernet.
Pair this Cab with roast beef, oven-roasted Brussels sprouts with bacon and whipped potatoes. Oh, I wish I had taken this suggestion myself when we tasted this wine.
Thanks to Kenwood Vineyards for sending these wines our way.
Cheers!