Lieb Cellars and its sister winery, Bridge Lane Wine, are located on the North Fork of Long Island, New York. And while we have tasted a fair number of wines from New York's Finger Lakes AVA, we are novices when it comes to Long Island. Our first taste of Long Island's North Fork came last year when we tasted these wines for the first time. We are happy to have received tasting samples once again and to have a taste of Bridge Lane wines in a new format.
Before writing about the wines of Lieb Cellars and Bridge Lane Wine last year I had to do a bit of homework. I needed to see the North Fork of Long Island on a map and read about the climate and soils of the area. I included an abridged version of what I learned in that first post introducing Lieb Cellars. We introduced Bridge Lane Wine in a subsequent post.
During that research I came across a reference to The Vineyard: The Pleasures and Perils of Creating an American Family Winery by Louisa Thomas Hargrave. I found a used copy of the book and fell into the story of the Hargrave's struggle to establish the first vineyard in the North Fork of Long Island in the early 1970s. It is an interesting read and I highly recommend the book.
The Hargraves established their vineyard in Cutchogue, the same hamlet that is home to Lieb Cellars. The vivid recollections of Louisa Thomas Hargrave are the next best thing to visiting the region. With that introduction, lets taste some wine from Lieb Cellars and Bridge Lane.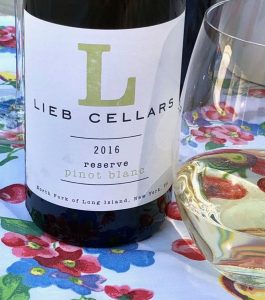 2016 Lieb Cellars Reserve Pinot Blanc, North Fork of Long Island — pale yellow in the glass with aromas of crushed gravel and dry oat hay. Hints of ripe melon and dusty minerality are lifted by citrusy acidity. The result is bright and refreshing. 11.9% abv. SRP $19.99. Cases produced: 1007
This is the perfect summer sipper; chill it and enjoy it on a warm summer afternoon.
The winemaker describes the 2016 wines as restrained and nuanced, thanks to a challenging growing season. Summer was hot and dry with heavy rainfall and humidity during late summer and fall, which required proactive vineyard management.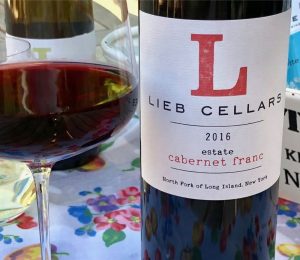 2016 Lieb Cellars Estate Cabernet Franc, North Fork of Long Island — light ruby in the glass; nearly translucent. With aeration, red fruit aromas evolve along with caramel that is evident immediately. Flavors of dried cranberries, blackberries, dried herbs and ripe raspberries combine with damp earth and hints of cedar. Black pepper sneaks into the flavor profile as well. The body is on the light side of medium and tannins are well integrated with the flavors. 12.8% abv. SRP $29.99 Case production: 226
Decant this Cab Franc to bring it alive. Flavors tend more toward the red fruits characteristics of a cooler-climate red wine, which I very much appreciate. Give it a slight chill and it will be enjoyable even on a warm afternoon.
The blend of 80% Cabernet Franc, 14% Cabernet Sauvignon, 4% Petit Verdot, 2% Merlot was aged for 10 months in Hungarian oak.
Bridge Lane Wine is a sister winery to Lieb Cellars. A quick glance at the label design lets you know Bridge Lane is all about doing things a bit differently. Their wines are available in 750 ml bottle, 3-liter box, and 375-ml can and 20-liter keg.
Since we tasted these wines last year the 375-ml can format is new, so we are happy to have the opportunity taste these wines in this format (and to challenge our assumptions). Wine production is exactly the same for every Bridge Lane Wine format; same quality wine in bottle, box, can and keg.

2017 Bridge Lane Sauvignon Blanc, New York State
—
pale yellow-green in the glass with dry oat hay and cut grass aromas. Flavors follow the aromas along with a hint of melon and adequate acidity.
12% abv. SRP $7.99 375ml can.
2017 Bridge Lane White Merlot, New York State — pale yellow-blush in the glass with subtle aromas and flavors of dry oat hay and citrus zest. 12% abv. SRP $7.99 375ml can.
2017 Bridge Lane Rosé, New York State — pale salmon in the glass with citrusy, mixed berry aromas. The flavors follow the aromas and result in a lively, refreshing wine. 12% abv. SRP $7.99 375ml can.
These are light, bright wines meant to be enjoyed with food and friends. And they're easily portable. You may not need to haul a cork screw along to open these cans, but I do suggest you take appropriate glassware. I do not advise drinking wine from a can: it shouldn't be consumed at the same speed as soda and, well, I'm old fashioned, wine should be consumed from a glass.
The back labels provide information about how the wine is made, what it tastes like, available formats and a reminder to recycle. Although the wines are vintage, the vintage dates do not appear on the canned wines. This is because it is less expensive to purchase sleeves in larger, non-vintage dated quantities. That is a savings that can be passed on to the customer. Each can does have a canned date on the bottom of the can and Bridge Lane guarantees freshness for one year after that date.
A word about varied formats and why from Bridge Lane:
Each  Bridge Lane wine is available in 4 sizes – 750ml bottle, 3L box, 375ml can and 20L keg – because we're eco-conscious and don't want to charge you a million dollars for good wine.  AND because sometimes you want to throw some cans of wine in a cooler at the beach or show up to a party like a baller with a KEG of rosé.
Thanks to the folks at Lieb Cellars and Bridge Lane Wines for the quick trip to New York's North Fork of Long Island.
Cheers!