We have been fans of South African wines since tasting a selection at our local wine shop several years ago. Our interest has become particularly acute, as we plan to visit Africa next July including an extension to Cape Town for the purpose of wine tasting. We were delighted to be contacted by Cape Classics, a US importer of a wide selection of wines from South Africa, regarding samples of their wines. We received a nice selection of both red and white wines from South Africa.
This, the first of two posts reviewing the wines we tasted, is dedicated to the white wines in the selection. We tasted through the selection of wines without benefit of food. Then, because wine is inevitably enjoyed with food, we tasted all of the wines with dishes we prepared to compliment the wines. We invited a few friends to enjoy the food and wines, some of them will travel to Africa with us next July.
2009 Weltevrede Philip Jonker Brut The Ring
Weltevrede is a family owned wine estate that has been farmed by the Jonker family for four generations (having been established in 1912 by Klaas Jonker). Located in the Robertson Valley, the soil on the farm is quite diverse. There are seventy-two unique vineyard blocks, some just a bit more than an acre in size. The three major soil types are broken shale, rust colored limestone and alluvial.
Chardonnay thrives in limestone soils of Robertson Valley and Philip Jonker is a well-regarded winemaker in this Chardonnay-loving valley. This Méthode Cap Classique Blanc de Blancs is 100% Chardonnay. Méthode Cap Classique refers to the production method (traditional méthode champenoise) as well as the style (South Africa's sparkling wine).
The Chardonnay was handpicked and whole bunches were gently pressed. After cold fermentation in stainless steel and 11 months in tank, secondary fermentation was triggered with the addition of the liqueur de tirage and took place in the bottle under crown cap. Maturation on the lees for 36 months was followed by hand remuage (each bottle was turned three times a day), disgorgement, topping with dosage and finally sealing under cork. Everything is done by hand. Truly a labor of love.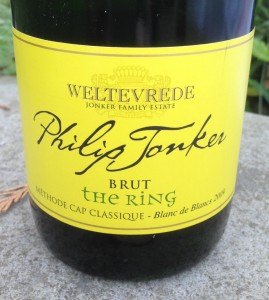 Now, on to the 2009 Weltevrede Philip Jonker Brut The Ring — pale yellow in the glass with ample bubbles. Shy yeast and citrus scents are followed by lemon, apple and minerally flavors. This wine has excellent acidity and a clean finish. It is delicate, but flavorful. ABV 11.7%,
It paired nicely with a rich, soft French Triple Cream Cheese, cutting through the fattiness of the cheese. It also stood-up to the tart herbal flavors of Humbolt Fog, a goat milk cheese, as well. I would imagine this citrusy, delicate Blanc de Blancs would also pair nicely with steamed mussels or clams. But, really, it is so pleasing to just enjoy on its own.
2012 Ken Forrester Petit Chenin Blanc
The farm that would become Ken Forrester Vineyards in 1993, was originally granted to German immigrants in 1689 by Governer Simon van der Stel. Today the farm is about 98 acres, a bit less than 90 acres are planted with vines. Since the purchase in 1993, Forrester has replanted vineyards and concentrated on Chenin Blanc (though he does make other wines, of course).
All fruit for the Petit line of wines is negotiant-sourced, not grown by Forrester. It is chosen to produce a consistent fruit-forward style of wine intended to drink now. In fact, Forrester states with regard to aging potential "should last half an hour with the cap off and reach for the next bottle!". There you have it.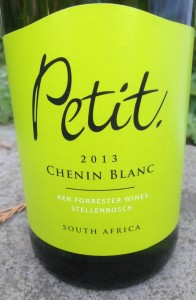 Here is what we tasted in the 2012 Ken Forrester Petit Chenin Blanc — straw colored in the glass with hints of pear scents. Flavors of pears and Meyer lemon finish with crisp acidity and a bit of citrus pith. The wine is weightless in mouth. It is not overly complex, but I don't think it is intended to be so. Just light and crisp. ABV 13%,
I sipped the Petit Chenin Blanc with Thai Peanut Chicken Salad in Endive and the wine was a bit overwhelmed. It made a nice partner to the creamy French Triple Cream Cheese. This wine would be perfect on a hot summer afternoon. No food necessary.
2012 DeMorgenzon Chenin Blanc
Current owners Wendy and Hylton Appelbaum purchased DeMorgenzon in 2003, though the property was part of a larger farm originally let in 1682. DeMorgenzon means "the morning sun". It is the first part of Stellenboschkloof valley to see sunlight in the morning due to its altitude and orientation.
The Chenin Blanc is planted in decomposed granite soils at between 250 to 300 meters (820 to 985 feet) in elevation. The vines were planted in 1971, originally as bush vines, but have since been trained on trellises. These low-yielding vines are subject to a "vitimusicology programme" whereby Baroque music is played 24 hours a day in the vineyard and cellar. Hylton Applebaum believes in the positive effects of melodic sound energy on plant growth. That's definitely unique.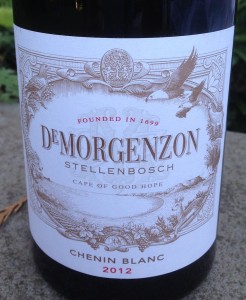 The 2012 DeMorgenzon Chenin Blanc is pale yellow in the glass with obvious scents of spice and a bit of vanilla. Flavors of citrus and complex spice flavors combine with a roundness in the mouth and good acidity to produce a complex mouthful of flavor and texture. ABV 14.2%.
This wine could easily be mistaken for an oaked Chardonnay. It is definitely a food wine to my taste. It stood-up nicely to the Thai Peanut Chicken Salad in Endive.
The grapes were hand picked in the early morning, fruit was cooled and then gently pressed. Fermentation occurred naturally with indigenous yeasts in French oak barrels (25% new). Aging on the lees took place over 10 months.
The contrast between the two Chenin Blancs is very instructive. The Petit Chenin Blanc is light, crisp and drink now—no food required. The DeMorgenzon is a complex, oak-influenced and heavier wine which could pair with a variety of food. Interesting contrast of styles.
2012 Excelsior Sauvignon Blanc

The Excelsior Wine Estate, located in the Robertson Valley, has been in the de Wet family since 1859 when Koos de Wet purchased the farm and began clearing the veld. He was a direct descendent of Jacobus de Wet who landed in Cape Town in 1697, began planting vines and became one of the first to make wine in the Cape. Planting vineyards was an early priority at Excelsior as well, in addition to raising racehorses and ostriches (for the feathers, which were very popular on hats until the early 1900s).
The farm now has nearly 550 acres of vineyards planted to Sauvignon Blanc, Chardonnay, Shiraz, Merlot and Cabernet Sauvignon. The Sauvignon Blanc for this wine comes from three vineyards. 30% from vineyards planted on limestone-rich calcareous clay soil, 35% from alluvial soil and 35% from a high altitude vineyard planted on shale-based soil. Each vineyard block was vinified separately, then aged on the lees for three months before being blended.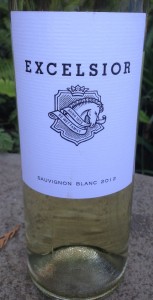 The 2012 Excelsior Sauvignon Blanc is pale straw in the glass. Obvious vegetal scents of hay and back notes of tangerine are reflected in the flavors. Citrus flavors along with herbal flavors of hay mix with crisp acidity and provide a clean finish. ABV is 12.5%. Not overtly "grassy", this Sauvignon Blanc tends more toward dry hay, which suits my palate.
The Excelsior Sauvignon Blanc was a good partner to the Thai Chicken Salad in Endive but was an even better accompaniment to Cochinita Pibil Tacos with Pickled Red Onions. The Sauvignon Blanc has plenty of flavor, but did not fight with the complex, earthy flavors of the pork. Yum.
This group of white wines offers something for most palates. The Weltevrede Méthode Cap Classique was crisp and clean with minimal yeastiness. The two Chenin Blancs are a study in contrasting wine style, the Petite being light and easy-drinking and the DeMorgenzon is oak-influenced and complex. The Excelsior Sauvignon Blanc will please Savignon Blanc drinkers who prefer a less grassy style.
As a way to orient yourself to the wine growing areas of South Africa, take a look at the map below. All of the designated growing regions of South Africa are detailed on this map from Wines of South Africa. The Weltevrede Philip Jonker Brut The Ring and Excelsior Sauvignon Blanc are produced from vineyards located in the Robertson Valley District within the Breede River Valley. The Petit Chenin Blanc and DeMorgenzon Chenin Blanc are produced from vineyards located in the Stellenbosch District within the Coastal Region.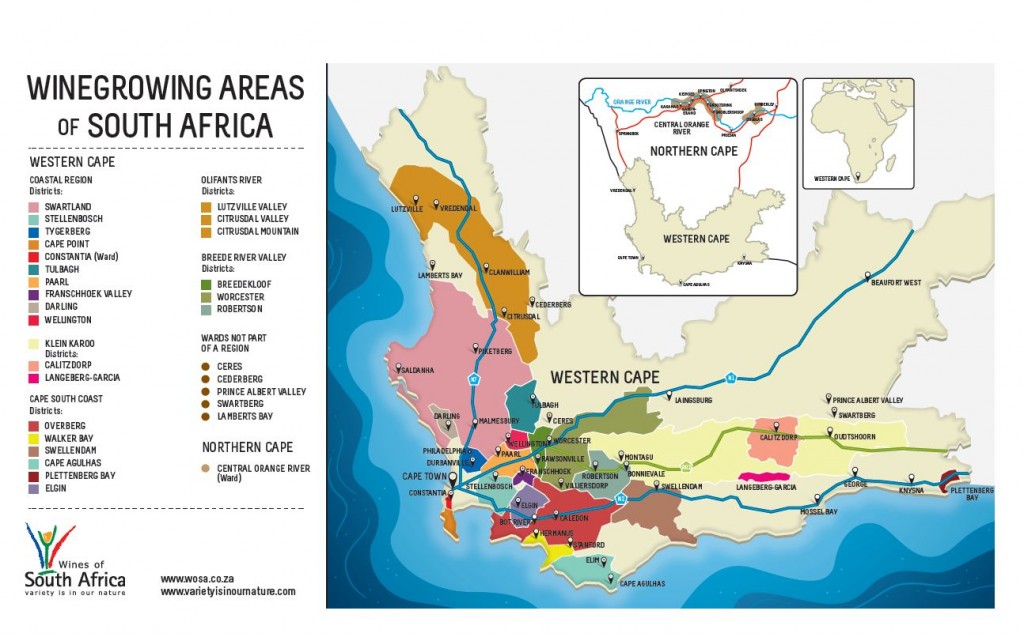 Thank you to Cape Classics for this flavorful and diverse selection of South African white wines. Stay tuned for the second post in this series which will review the four red wines we received.
Cheers!