We tasted two white wines and two red wines from Pine Ridge Vineyards for another TasteLive.com online event. Pine Ridge Vineyards is in the Stags Leap District of the Napa Valley. Winemaker Michael Beaulac and his assistant winemaker, Jason Ledbetter were our hosts. They did a great job, sitting at the entrance to a wine cave and tasting and discussing the same wines we were. They covered way too much in the hour we had for me to get it all down here so I'll just note some interesting comments they made. You really need to log on to TastLive.com and look at their event calendar and then watch and listen in to these tasting events. I'm going to suggest they keep the videos online somewhere so we can watch again and also others can watch later.
Michael talked about the various vintages they have had and how they are tasting the wine two or three times a day during fermentation to see how it is doing. One thing he mentioned was the 2011 vintage. He said 2011 was a difficult year and the red wines will be softer and more Bordeaux like than previous years. I happen to like them that way so let's see if I can remember to make a visit to the winery when they are released in a couple of years or so. Michael and Jason also discussed the effect varying alcohol levels have on the mouthfeel of a wine how they felt Napa wines peak in about seven years and then start to lose their bouquet. There was so much interesting information they gave us!
While they were talking, we were trying the wines along with them. Note: 2008 is the first vintage that was released that was Michaels and Jason started at Pine Ridge in 2009.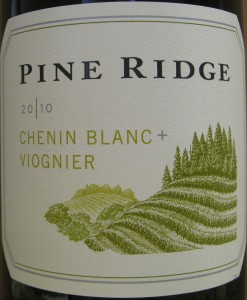 We started off with the 2010 Pine Ridge Chenin Blanc + Viognier. The Chenin Blanc grapes (79%) are from Clarksburg, south of Sacramento and the Viognier grapes (21%) are from Stockton, a little further south. Right off you found a big floral nose from the Viognier. There were flavors of citrus with a little grassiness. There was a nice crisp, clean finish. It is interesting how the Viognier came out in the nose and the Chenin Blanc in the flavor.
Next we tried the 2009 Pine Ridge "Dijon Clones" Carneros Napa Valley Chardonnay. The Dijon clones have smaller berries and need a cooler climate with a long growing season.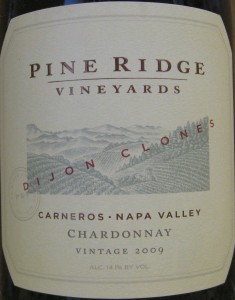 It sounds like a good fit with the Carneros region and it's fog and cool nights. This Chardonnay does not go through malolactic fermentation so you don't get the butteriness but it still has a round mouthfeel. Initially the nose was minimal but it opened up as it sat in the glass and warmed up and citrus notes appeared. There was some pear and spice in the flavor that also increased as the wine opened up. I guess the lesson here is, don't over chill the wine.
The first red we tried was the 2008 Pine Ridge Napa Valley Cabernet Sauvignon.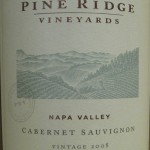 The grapes for this wine were sourced 60% from Rutherford, 30 +% from Oakville and the balance from Stags Leap. Michael said he used American oak on this wine to differentiate it from other Napa Valley Cabs. He said the American oak adds volume and texture while French oak would add more high notes. A beautiful dark ruby color with a big dark fruit nose with hints of vanilla. There were complex dark fruit flavors with a little background of vegetal to make it more interesting. Lots of flavor with grippy tannins that will mellow with age, good structure and a medium length finish. Several of the other tasters said this was their favorite of the two Cabs.
The second red and last wine we tasted was the 2008 Stags Leap District Cabernet Sauvignon. Stags Leap is a very small area, only three miles by one mile. This is a blend of 91% Cabernet Sauvignon, 8% Petit Verdot and 1% Merlot. This dark ruby colored wine was aged fourteen months in 75% new French oak. There was a restrained dark fruit nose and complex flavors of dark fruit and a little chocolate. Smooth tannins, well balanced. This was a very elegant wine and our favorite.
Another fun night of wine tasting with Charles Communications Associates (TastLive.com) Pine Ridge Vineyards and our fellow wine lovers on Twitter.