Almost everyone looks for good value with every purchase they make. Wine is no exception. Do we all enjoy those special $40 and above wines? Absolutely. But the reality is most of us cannot afford to drink them on a daily basis. So, we look for the best value possible for our every day wines, so we can still afford to drink those more expensive wines for special occasions.
Purple Wine Company knows this about us. And to that end, have produced a line of inexpensive, everyday wines for us to enjoy. Their goal is to produce versatile, food-friendly wines that are consistent from vintage to vintage. Located in Graton, California and established in 2001, their wines are bottled by their sister production company, Sonoma Wine Company. Their "family of wines" include Avalon, BEX, Four Vines, Cryptic and Alto-Cinco.
We participated in an online tasting featuring three of their current releases. Lisa Ehrlich, VP of Marketing and Winemaker, Britt Moore,  provided background on the sourcing of each wine from premium appellations throughout California, and lead us through a tasting of the wines. Here are the wines that were provided to us and what we thought about them.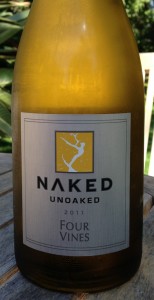 2011 Four Vines Naked Chardonnay $12. Citrus scents and flavors, lemon and grapefruit,along with stone fruit and with a bit of minerality. The finish is clean and crisp. This Chardonnay is surprisingly good for the $12 price, in fact it would compare favorably to a wine costing twice that.
This Chardonnay is called Naked for a very good reason. No barrel aging here, just the crisp flavors of the Chardonnay grapes themselves. Only a small portion (4%) of the juice is allowed to go through malolactic fermentation and a bit of sur lies aging takes place. Fruit is sourced from Santa Barbara County, and the bright acidity of a cooler climate comes through.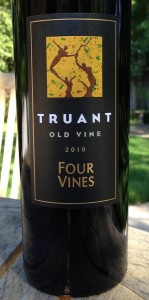 2010 Four Vines Truant Old Vine Zinfandel $12. Earth and dark fruit come through on the nose. Flavors of berries, black pepper and earth combine with moderate tannins and good acidity to produce a wine with a fairly light weight in the mouth. This is not an over ripe jammy style of Zinfandel. It is a blend of 77% Zinfnadel, 13% Syrah, 5% Petite Sirah,  3% Barbera and 2% Sangiovese.
Fruit is sourced from Paso Robles, Mendocino County, Cucamonga Valley, Lodi, Amador County and Russian River. So, by now you have figured out why it's called Truant. It goes by no rules but its own, blending varieties into the Zinflandel and sourcing fruit from wherever it is good. ABV is 14.5%, though the finish is not at all hot. This wine would pair nicely with a variety of food. We had it with spicy Italian sausage pasta in a tomato sauce and it behaved well, for a Truant.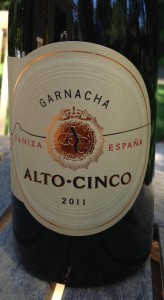 2011 Alto-Cinco Garnacha $15. Dark ruby in the glass with scents of ripe dark fruit, red roses and vanilla. Flavors follow with berry fruit and cherries with a touch of sweetness. Tannins are grippy and the wine has good acidity and a clean finish. It's juicy and delicious. Easy to drink and like. Drink this wine with grilled meats or pastas.
Blended from several vineyards around Paniza within the Cariñena DO (Denominación de Origen) in northern Spain. Garnacha is planted extensively in this region along with its namesake variety Cariñena (Carignan). The climate is continental, warm days and very cool nights, which produces great acidity and flavor in the wines. Fermentation took place in stainless steel, followed by aging for 6 months in French and American oak. 6% Tempranillo is blended with the Garnacha.
So, here are three wines all reasonably priced and all very flavorful. Who says wine can't be good and affordable? Certainly not Purple Wine Company.
Thank you to Purple Wine Company and Charles Communications Associates for providing the samples and including us in the tasting.
Cheers!