Wilhelm Family Vineyards winemaker, Karyl Wilhelm, was busy filtering wine when we arrived. It was a Monday, the winery is open Friday, Saturday and Sunday in August, but she had said come on by anyway. She warned us ahead of time that she was working and wasn't all dressed-up. We were good with that, we weren't all dressed-up either.
Karyl Wilhelm is a woman on a mission, in more than one sense. She worked medical evacuation in the first Gulf War. It was during this time she met her husband Kevin, a fighter pilot. Two military careers combined with children eventually made for a very hectic life. The pair realize they wanted a change, and some open space. They decided on the Sonoita/Elgin area because it's commutable for Kevin (to his "day job" at Davis-Mothan Air Force Base near Tucson) and the weather in southern Arizona provides four distinct seasons.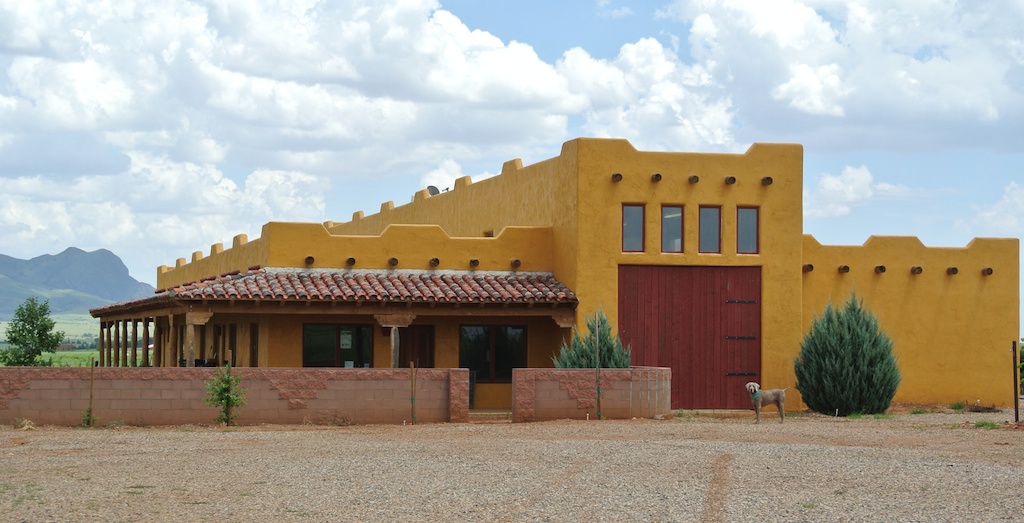 They purchased 20 acres of grassland in 2004. They started from scratch. Before drilling their well, they called in Tom Hunt, a well-known dowser from Tucson. They began planting their vineyards in 2005. Some varieties did better than others. They lived for a time in a 5th wheel trailer on the property. Plans for their home/winery/tasting room began. In 2008 they had their first harvest and the winery/tasting room opened, which Karyl affectionately calls her "butterscotch castle."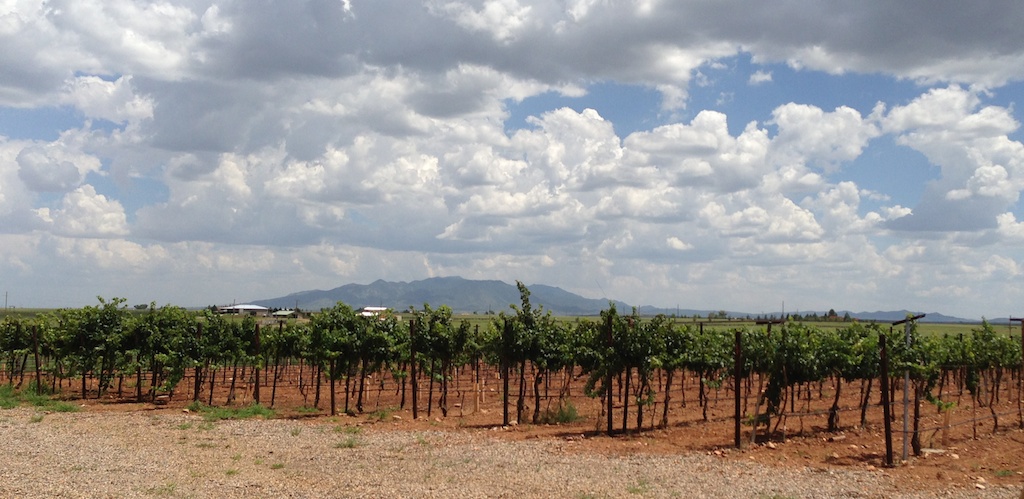 They have about 8 acres planted in Cabernet Sauvignon, Mourvedre, Cinsault, Tannat, Graciano, Petite Verdot and their only white variety Albariño. She purchases grapes from other growers as well. Kevin is the vineyard manager. Their crop has improved every year as Kevin constantly learns what works and what doesn't work in the vineyard.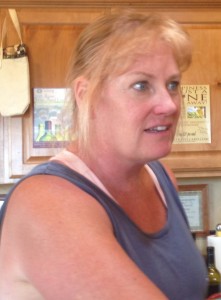 Karyl was the first female winemaker in the Sonoita area and the first certified by UC Davis. She has enormous energy. She knows what she likes and that's what she makes. She also knows what consumers like and she makes that too. Her tasting room is a "no judgement zone." Everyone is free to taste and like whatever they choose.
She makes an astonishing variety and number of wines, about 25 or so in all, 8 of which are dry. One side of her tasting menu lists the dry white and red wines. The other side lists the semi-sweet, sangria and dessert wines. This list includes rosé, white and red sangrias, red and white Port-style wines. She adds natural flavors the Port-style wines to produce a long list of dessert wines.
Though her personal preference tends toward the dry side of the tasting menu, Karyl said in reference to the sweeter wines, "I can make the heck out of them." She went on to explain, though she may not prefer the sweeter wines, her customers do. "We get a lot of sweeties in the tasting room", she added with a smile. She enjoys challenging the assumptions of her tasting room guests as well. She serves her sangrias frozen, as slushies. They are very popular.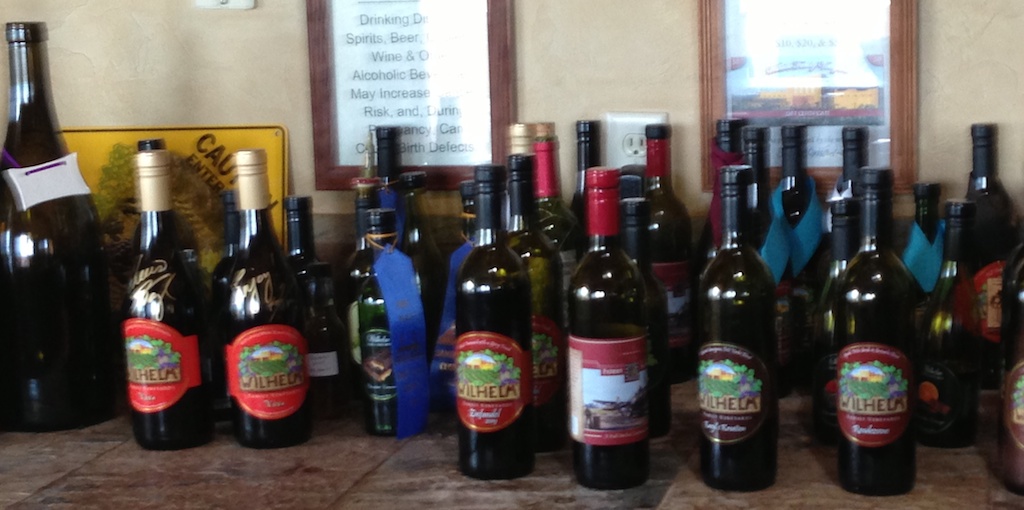 Karyl uses all French oak, all at least one year old. She purchases one year old oak because it's less expensive and it provides the more nuanced oak flavors she prefers. She gets very excited when talking about yeast strains and the microorganisms responsible for malolactic fermentation. She's a true scientist (not only has she studied wine science, she also has a background in biomedical engineering).
Karyl demonstrated the unique flavors contributed by specific yeast strains during fermentation by pouring us her 2011 and 2012 Albariño. The 2011 Albariño was citrusy, the 2012 tasted more like tropical fruit and pears. Both had great acidity. It was an interesting comparison. The fruit for both was sourced from Markus Bokisch in Lodi, California, both were cold-soaked for three days and finished in stainless steel. It was so informative to taste these two wines together.
Karyl's 2009 Chardonnay is clean, crisp and citrusy. It is fermented and finished in stainless steel and does not undergo malolactic fermentation. She makes Chardonnay in the style she prefers.
Karyl's dry red wines are an interesting group of wines as well. Most are not vintage dated. They will be a blend of vintages by the time they are released. She loves to blend and does so to achieve the specific flavors she wants. She deliberately selects the microorganisms to facilitate malolactic fermentation that reinforce the flavors she wants as well.
Karyl's Kuvee is an Estate wine, the only one in the group. It is a blend of Cabernet Sauvignon Blanc, Merlot, Cabernet Franc and Syrah. Pleasantly light bodied, lots of complex fruit flavors. It's well-balanced with a finish long of flavor and tannins. Karyl managed to extract lots of flavor from the fruit of relatively young vines.
Karyl's Kreation is a Cabernet Sauvignon blend. Chocolate predominates in the scents and flavors, due to the organisms she chose to facilitate malolactic fermentation. Berry flavors and smooth tannins round out the flavor profile.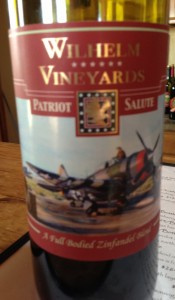 Patriot Salute is always a Zinfandel blend. Karyl produces this wine for their Patriot Salute Festival celebrated on Veterans Day Weekend at the winery (November 9 and 10 this year). Her goal is to produce a Zinfandel-based wine that will have wide appeal. Every year the label is unique. So is the flavor.
Kevin's Choice is always a Tempranillo. Karyl is a big fan of this Spanish variety.
Karyl also makes a Syrah and a Zinfandel. She is not totally opposed to producing varietal wines, she just enjoys blending. To Karyl, not blending is like using only one spice when cooking. "I like to open the spice drawer", she stated enthusiastically.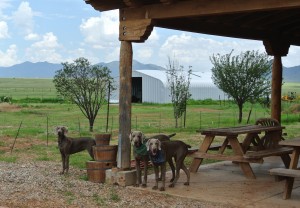 The greeters at Wilhelm Family Vineyards are a handsome group. The family's three Weimaraners will trot out to say hello. They seem perfectly at home in the vineyard. In fact, Chancellor, the patriarch has developed the skill of detecting horned worms that love to feast on the vineyard foliage. It's organic pest control! They're not just beautiful, they're smart too.
There are lots of flavors to like at Wilhelm Family Vineyards. Karyl develops lots of flavor in her wines without being too ripe or dominated by wood. The winery is growing, more barrels are on order for the spring. I look forward to visiting in the future to see what new things Karyl has up her sleeve. It will be interesting to taste the flavors she is able to develop from her vineyard as is matures.
Cheers!