We have started off WBC12 (Wine Bloggers Conference 2012) in Portland with a fun wine trip. We signed up for a tour of Stoller Family Estate. Sebastien from Stoller Vineyards picked us up at the Portland Doubletree Hotel in an old school bus. He explained the school bus relates to the Pinot Wine Camp, an annual Willamette Valley event that involves wine education. It took me back to High School. The same dark green seats and hard to lower windows!
We had a great time bouncing down the road. We started out by introducing ourselves and telling each other a little about ourselves and our wine experience. We got to meet some fellow wine bloggers we have met on twitter and put faces with their twitter handles. Sebastien pointed out wineries of interest and told us about the area, soil and climate as we drove down the road.
When we arrived at the winery we could see Stoller Vineyards is undergoing a major building project. A new tasting room is nearing completion for a major event planned for the beginning of September. Workers were installing solar panels on the roof as we arrived at the winery.
Sebastien took us into the tasting room which has a beautiful view of the vineyards. He continued the very interesting history of the winery but took some time to provide us with our first glass of wine. The first wine he poured was a 2011 Pinot Noir Rose, 100% Pinot Noir. The color was a beautiful blush and the flavors were crisp with grapefruit and other citrus. Quite refreshing and very surprising flavors.
We sipped our wine as we walked up the hill to the picnic area. The area is a large grassy area with large shade trees. We met the vineyard manager, Robert Schultz, and other employees collecting data on a test area of the vineyard. Robert was full of information about the soil, climate, clones, elevations and other details. He speaks with a passion about the vines and his goal is to give the winemaker the best product he possibly can. He manages about a half a million vines.
Sebastien poured the 2011 JV Estate Chardonnay (un-oaked), a 2011 Riesling and the 2009 JV Pinot Noir with our lunch. Lunch was made by the Red Hills Market in Dundee. We had our choice of salami or turkey sandwiches, chips and wonderful chewy cookies that had nuts and bacon in them! Yum. The wines were all wonderfully flavorful.

After a leisurely lunch, we walked back to the winery for a tour of the facility. Sebastien explained that Stoller Family Estate was the first LEED Gold certified winery in the US.A This certification has quite a high standard and is reflective of the Stoller family's commitment to the land.
During our winery tour, Sebastien poured a series of both Chardonnay and Pinot Noir for us to compare directly. He poured Chardonnay from a similar block of the Stoller vineyard and made by Adelsheim Vineyards, Chehalem Vineyards and Stoller Family Estate. The differences were very interesting, they all had their own characteristics.
Next we tasted a series of Pinot Noir wines. We tasted the Helen's, Nancy's and Cathy's Pinot Noir, all Reserve Pinot Noir and all excellent. They were all unique, had a light body and full of flavor.
We all had a great time and as we were leaving their winemaker Melissa Burr came over and told us about her winemaking philosophy and what she is trying to do with their wines. After we finished asking questions she gave each of us a signed bottle of the 2008 SV Estate Pinot Noir.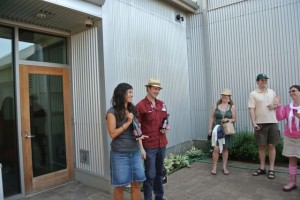 A big THANK YOU to Sebastion and Stoller Family Estate for a fun and educational trip. A great way to start off WBC2012.