A recent Thursday night wine tasting at Fine Wines of Stockton highlighted wines from southern Oregon. We tasted wines from the Southern Oregon AVA during a prior tasting at Fine Wines, specifically from the Elkton sub-AVA within the Umpqua Valley AVA located in the northern portion of the Southern Oregon AVA. I know it's a bit convoluted, but keep reading.
That tasting was presented by one of the other regular tasters who had visited the area and brought back wine to do a tasting. Intrigued by that prior tasting, George and Gail recently visited southern Oregon to see what they could learn about the area. They're always looking for interesting wines from little-known or under-appreciated areas.
This tasting will concentrate on the Applegate Valley AVA, the only sub-AVA of the Rogue Valley AVA which is located in the southern portion of the Southern Oregon AVA. This overview map will help orient you, and this detailed map shows the Applegate Valley AVA and its wineries.
The Applegate Valley AVA was established in 2000. This comparatively small, narrow valley is warm and dry. Soil types are variable from granite to coarse river-wash near the Applegate River. Higher elevation alluvial soils are coarse and shallow in places. These varied soil types produce aromatic white wines, structured reds and rich white wines.
In general, wineries in the Applegate Valley AVA are relatively small. Annual production may be only 2000 – 3000 case range. Some wineries grow ten or more wine varieties. This warm area seems to have lots to offer from their varied soil and climates. Let's see how the wines taste.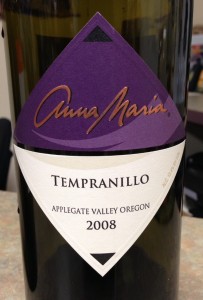 2008 Anna Maria Valley View Winery Tempranillo. Concentrated dried fruit and iron scents are followed by sweet dark fruit, cherries, tobacco and well-integrated tannins. Lots of acid with a light body and plenty of flavor. Complex. The Anna Maria label from Valley View is only used on their finest wines and only in the best vintages.
Valley View Winery has a long history in Oregon, it was the first to be planted in the area and according to Gail, the eighth winery bonded in Oregon. It grows a large number of varieties on 36 acres.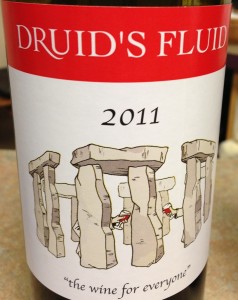 2011 Druid's Fluid Troon Vineyard. The nose is minimal, just a bit of red fruit. Red fruit flavors, including cherry, with a bit of sweetness and vanilla. Tannins are smooth.
This blend contains Merlot, Syrah, Zinfandel and Cabernet Sauvignon. "Wine for the masses," according to Gail.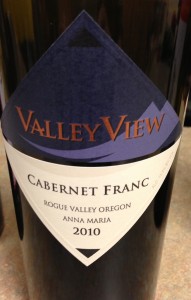 2010 Valley View Winery Cabernet Franc. Slightly floral on the nose. Flavors of dark fruit and tobacco combine with significant drying tannins. Lots of flavor is packed into this light bodied wine with great acidity.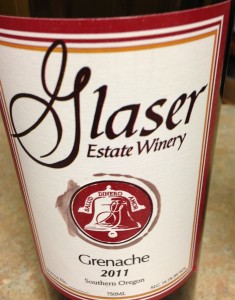 2011 Glaser Estate Winery Grenache. Sweet cherry scents and flavors mix with darker red fruit and significant, grippy tannins. This medium-bodied wine has good acidity.
In addition to making wine, Glaser is in the process of setting-up a distillery. They will be making rum, whiskey and limoncello, to name a few.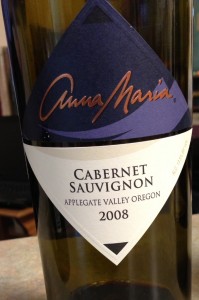 2008 Anna Maria Valley View Winery Cabernet Sauvignon. The nose is so complex, dark fruit, celery and jalapeno. Complex dark fruit, licorice, vegetal flavors with significant tannins. Well-balanced and flavorful.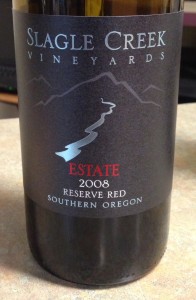 2008 Slagle Creek Vineyards Estate Reserve Red. Dark fruit scents and flavors, with a bit of earth, combine with moderate tannins and good acidity to produce a well-balanced flavorful wine. This wine is a blend of Cabernet Sauvignon, Merlot, Syrah and Tempranillo.
As always, George and Gail try to bring us the best wine for the dollar. In the case of these wines, the price range is $18 to $26. All of these wines had plenty of flavor, ripe fruit flavors, without being too ripe. I did not note a hot finish on any of these wines.
Based on the wines we sampled, this is definitely an area worth exploring. The mainly small producers, some open by appointment only, are located along scenic, winding roads in a remote area. George and Gail assured us it is easy to get lost. Not to worry, just keep driving and you will find another winery.
Cheers!