Pillsbury Wine Company recently opened a tasting room at their vineyards in Willcox. They call it their Vineyard Cottage and Tasting Room. Sounds cute, doesn't it? Well it is. Not only that, the drive provides a great sense of what the Sulphur Springs Valley is like.
It's a quick drive (about 14 miles) south of Willcox along Hwy 186 to Kansas Settlement Road. You will be treated to great mountain views. Watch for Dos Cabezas peaks on your left. Just by accident I managed to capture both cabezas!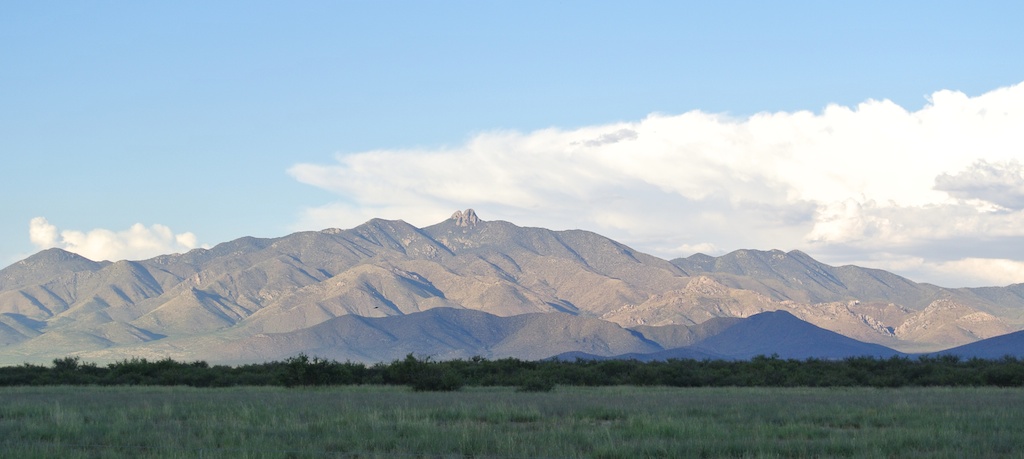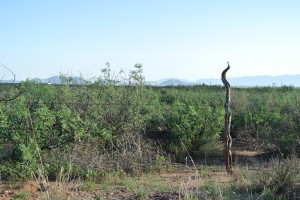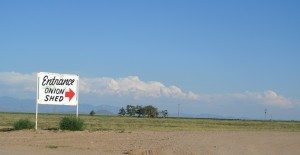 Take a left on E Robbs Road. Here is where it gets really fun because the road is unpaved from here on, but in very good shape. Only a couple of miles to go.
You will pass cotton fields, pistachio and pecan orchards and scrub mesquite.
It's so interesting to see the land in it's unimproved state right beside sections that are being farmed.
There are lots of crops planted in the area in addition to vineyards and cattle grazing. Not many people on the road out here though. Just one farmer in his pick-up. He waived.
Eventually you will see vineyards and on your left and the Pillsbury Wine Company sign.  You have arrived, nearly.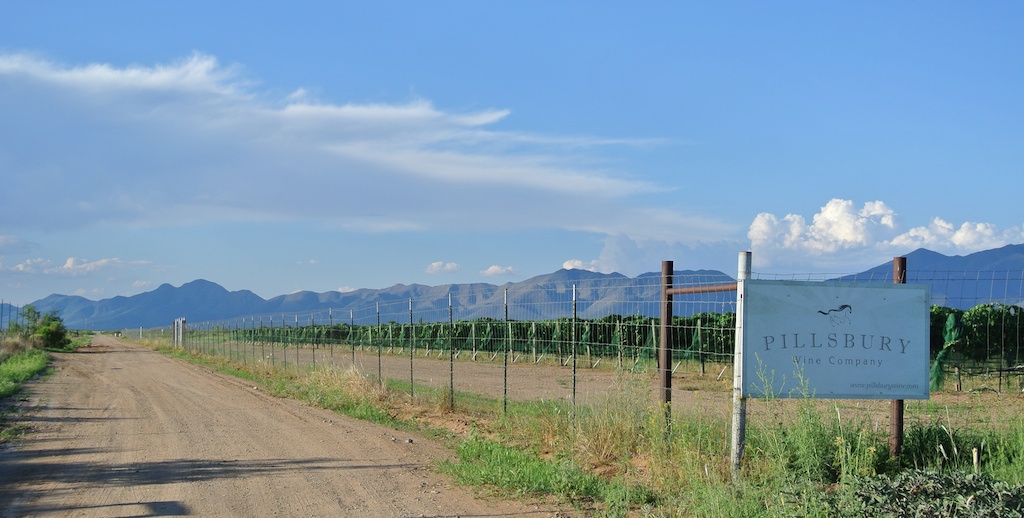 Just continue past the vineyards to the turn-off to the Cottage. You will see an old barn with an assortment of farm equipment. The Vineyard Cottage is on your right.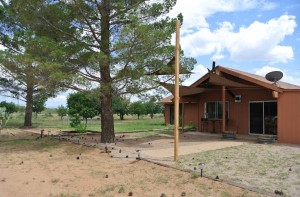 The first thing I noticed as I got out of the car was the scent of pine trees. It was so pleasant and fragrant, but surprising. In spite of the 4200 ft. elevation, these were the first pine trees we had seen in the area. And there were quite a few planted around the Cottage.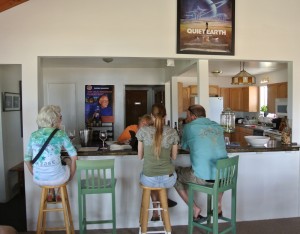 We wandered inside the tasting room and were welcomed by Bonnie, the tasting room manager. She offered us a seat at the bar and enthusiastically guided us through the tasting.
Sam Pillsbury, who in his prior career directed 25 movies, began planting the 100 acres around the Wine Cottage in 2000 with Rhone varieties. The soil is sandy loam and powdery fine. A thin layer still coated the back bumper of the car even after our drive back into town.
Bonnie told us Sam makes wines in the style he likes to drink. The red wines are on the lighter side, white wines are dry and all fruit is from Cochise County.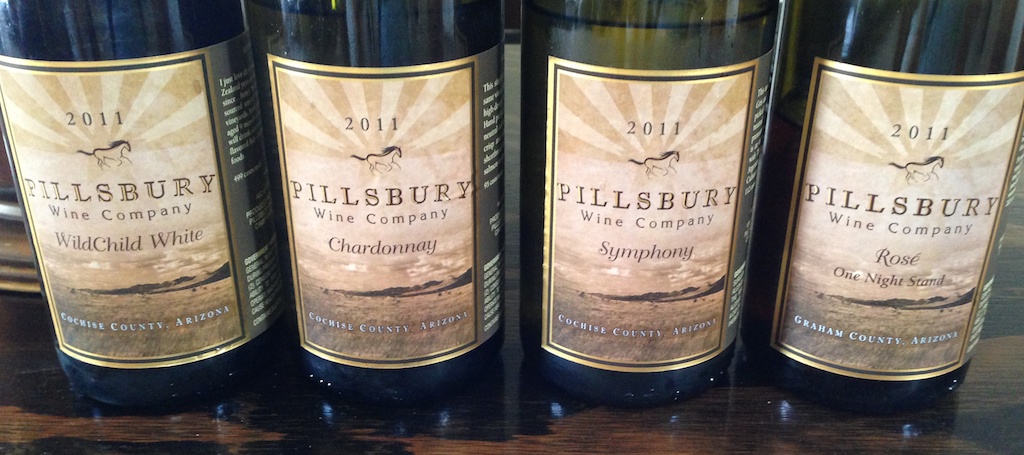 We began our tasting with 2011 Pillsbury Wine Company One Night Stand Rosé $18. Salmon color in the glass, strawberry scents, light berry fruit flavors and crisp acidity. The Zinfandel is picked early and a touch of Riesling is added. ABV is 11.7%.
2011 Symphony $38. Orange blossom scents, then citrus flavors with good acidity. Not as overtly floral as some Symphony I have tasted and not cloyingly sweet either, thankfully. It's harvested from a single vineyard and aged in neutral oak. ABV is 13.9%
2011 WildChild White $20. Light, citrusy and vaguely floral. This blend of Chenin Blanc, Riesling, Pinot Grigio and Symphony spent 9 months in neutral oak. ABV is 13%. Great summer wine. A bottle of this went home with us so we could put on an Arizona wine tasting for our friends.
2011 Chardonnay $32. Peaches, pears, citrus with great acid. This single vineyard Chardonnay did not go through malolactic fermentation and spent 9 months in neutral oak. Flavorful and crisp. ABV is 13.9%.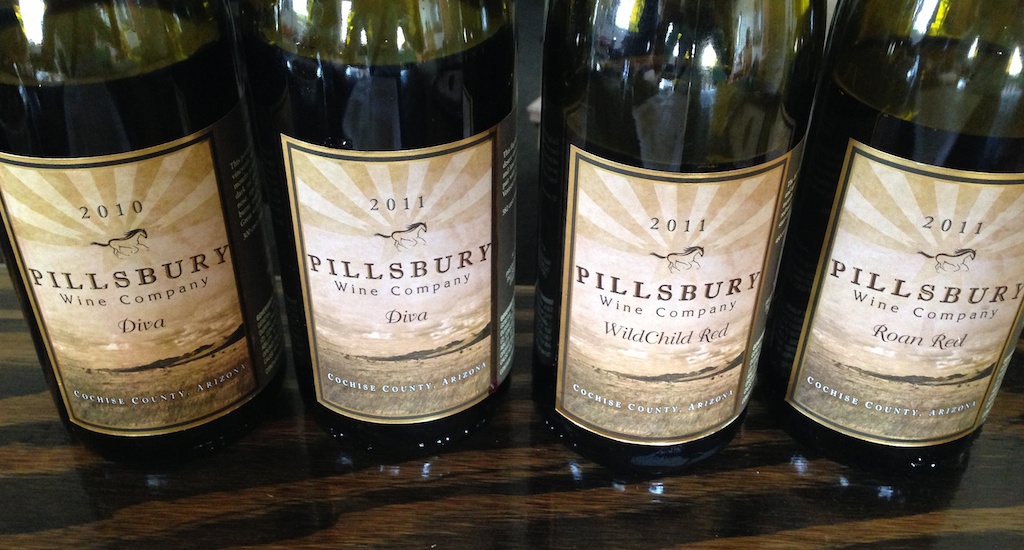 2011 Roan Red $28. Light ruby in the glass with scents of strawberries and roses. Bright fruit flavors with good complexity and smooth tannins. This Grenache, Mourvedre, Syrah blend is aged 11 months in neutral French and American oak. Love the Grenache flavors in this light-bodied red wine. ABV is 13.9%.
This is the first Arizona red wine I remember tasting several years ago at FnB restaurant in Scottsdale. I liked it then, and I like it now. It's flavorful and light-bodied and drinks well with so many dishes. This year we ordered a bottle at FnB and it tasted amazing with our meal (lobster mushroom, corn, basil, summer savory pasta for me and skirt steak with heirloom tomatoes, Pavle's rice and chimichurri for Pete).
2011 WildChild Red $20. A bit darker in the glass with darker fruit flavors and spice. Good layers of flavor, but still light bodied. It is a blend of Merlot, Sangiovese, Zinfandel, Grenache, Mourvedre and Shiraz. Very pleasant. ABV is 14.8% Two bottles went home with us, one for the tasting and one for us.
2011 Diva $38. Just bottled in March, this Shiraz, Mourvedre, Petite Sirah blend has complex dark fruit flavors, great tannins and a bit more weight in the mouth. It is aged 11 months in American and French oak. ABV is 13.9%. Lots of flavor, not a lot of alcohol.
2010 Diva $38. More of a developed dark fruit nose, flavors follow with dark fruit and spicy complexity. Smooth tannins. The blend is Syrah and Petite Sirah with aging 10 months in neutral American and French oak. Bigger fruit flavors. ABV is 12.9%.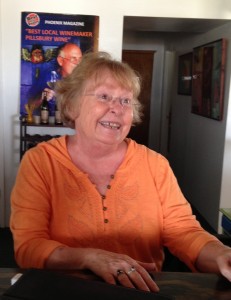 Bonnie enjoys her time at the Vineyard Cottage. Its peaceful location gives her the quiet time she needs to do the writing and editing she enjoys so much. Her blog, Pour Me Some Grapes, appears on TucsonCitizen.com, a collection of citizen blogs. She is plugged into the wine scene in southern Arizona and keeps her readers informed about what's going on.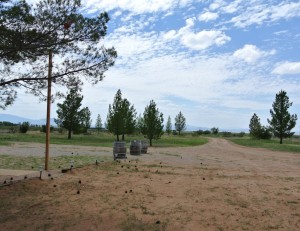 When I asked her about the pine trees around the cottage she told us it had been planted by the prior owners who had lived there nearly 30 years. Every year the family planted their living Christmas tree after they had enjoyed it for the holiday. That explains the varying heights of the trees.
The family also planted pistachio, pecan and a variety of fruit trees. In fact, bowls of pecans are available for Cottage visitors to sample while tasting. The shells are so soft, all you need do is grasp two pecans in your hand and squeeze. Voila! Then you can pick the flavorful nuts from their shells.
The sunsets at the Cottage are to die for according to Bonnie. She regularly sits outside, no doubt with a glass of Pillsbury wine in hand, and enjoys watching the sun set behind the mountains. Two and a half hour sunsets, can you imagine? And then, when the sun has set, the stars come out. The air is clean and clear, there are no city lights competing with the stars and they really shine. Sounds amazing.
By the time we arrived at the Tasting Cottage I was grinning from ear to ear. The drive had been an adventure. So much to absorb. Lots to take pictures of. When we left the Cottage I was just as pleased, having had a thoroughly enjoyable tasting. Bonnie is fun, enthusiastic and so friendly. The wines are light-bodied but flavorful and easy drinking. Other tasters were having just as much fun as we did.
The names of some of the wines are playful. The Roan on wine labels is a play on Rhone, which acknowledges the grape varieties Pillsbury has planted, and the star and stripes reflect the Arizona state flag. The grassland, mountains and clouds are all Cochise County. Pillsbury Wine Company likes to have fun, but they make seriously good wine.
The Tasting Cottage and Tasting Room hours are Thursday-Sunday: 11am – 5pm, and by appointment.
Pillsbury Wine Company also has a tasting room in historic Old Town Cottonwood, about 100 miles north of Phoenix. It's open Sunday-Thursday from 11am to 6pm and Friday-Saturday from 11am to 8pm.
Now, get out there and taste some Pillsbury wine. Cheers!